July 21st, 2023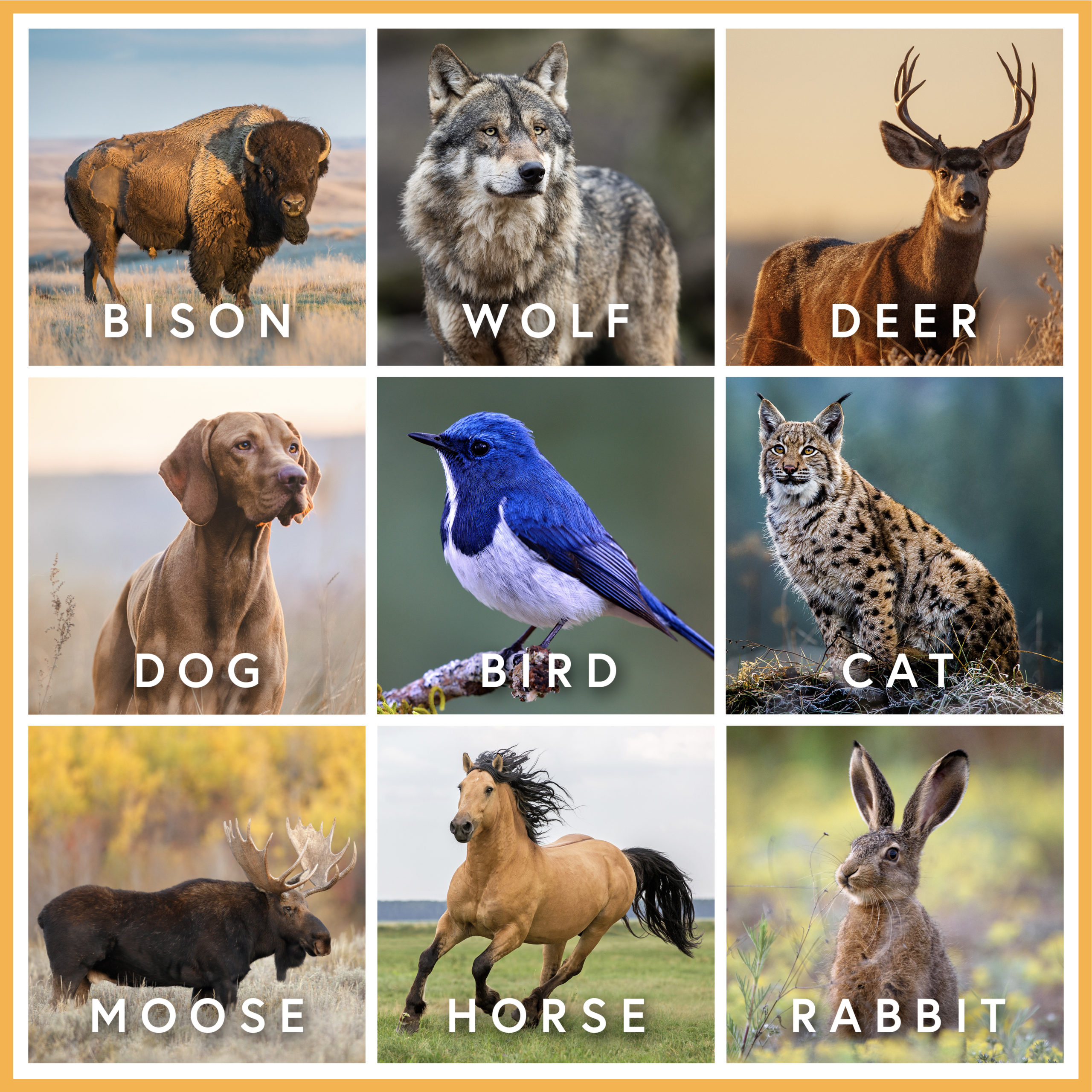 Summertime in Park City means beautiful mountain vistas, sunshine-filled hiking and biking, reservoir swims, and a bustling, blooming Main Street. It also means that all of our beloved Utah wildlife are out and about, roaming the meadows and mountainsides.
Inspired by more recent sightings of our favorite Utah animals, we've curated a few of our artists' animal artworks to delight and inspire. Pick out your favorite animal from the grid above, and we'll show you how our Gallery MAR artists transform them into stunning works of art.
---
BISON
The strength and power of the American bison or buffalo has long been connected with inner strength and resilience. These gentle, giants roam the Western landscape in relative harmony. Their size and stature may make them majestic to behold, but the mild temperament of the American bison makes them one of the more beloved creatures of the American West. Artists Ron Russon and Jamie Burnes do beautiful justice to the magnificence and quiet strength of these majestic creatures.
---
WOLF
These fierce creatures are simultaneously feared and revered. Known for their loyalty and intelligence, the formidable wolf is one of the most respected wild animals. They may remind us of our favorite fur friends, but these and powerful creatures are better left to the wild. You can bring all the beauty and power of that wild into your home with the powerful work of Matt Flint, Ron Russon, and James Penfield. Whether it's through the magnetic stare of the wolves in Matt Flint's portraiture or the wild howl of James Penfield's abstract painting, these works are sure to endow your home with a sense of the wild and magnificent.
---
DEER
The sweet deer has long been a symbol of energy and grace. These darling creatures roam the plains and meadows in herds, grazing and prancing, and making for a fairytale accent to your Western mountain view. Whether you're drawn more to the Mule Deer or the elk, they're all welcome in the deer family and all welcome here at Gallery MAR. Find stunning pieces featuring deer and their iconic antlers by artists Pamela Murphy, KOLLABS, and Jared & Nicole Davis in the gallery today. 
---
DOG
Although they may not be considered wildlife, We couldn't write a blog about animal art without giving a shoutout to many people's favorite animal, the dog. Our beloved dogs not only deserve their place in our homes, but they also deserve a space on our walls. These sweet pieces by Sara Edgar, Fred Calleri, and Wayne Salge pay beautiful homage to man's best friend. 
---
BIRD
As symbols of freedom and hope, birds are sure to inspire with their song and their flight. It's no wonder see that these artworks depicting birds by Wayne Salge, Mary Scrimgeour, and Hunt Slonem feel so full of hope and energy. The sculptural works of Wayne Salge show off the poise and grace of these beautiful creatures while the work of Mary Scrimgeour and Hunt Slonem express the quirky, vibrant energy of these precious birds of flight.
---
CAT
While the word "cat" may call to mind images of purring felines bathing in the sunlight, here our artists capture the fierce spirit and tenacity of our wild cats. Mountain lions, cougars, lynx, and more: These wild cats are symbols of independence and courage. You can bring that power into your home with the works of James Penfield and KOLLABS here at Gallery MAR.
---
MOOSE
Before moving out West, I had never before seen a moose in person.  Seeing one in person, you cannot help but be struck by their enormous stature. It's impossible to truly capture the scale and power of a moose if you haven't spotted one in the wild. These massive, majestic creatures are the pride of the West for their awe-inspiring silhouette, their power, and their determination. While you should be wary of a moose in the wild, you can bring all the grandeur of the moose to your home with the work of local artist Ron Russon.
---
HORSE
One of the most beloved of the animals is the horse. Whether wild or domesticated, these noble creatures are sure to inspire with their strength, grace, and courage. It's no wonder that the horse is one of the most depicted animals here at Gallery MAR. Whether you prefer the quiet pastoral beauty of works like those of Aaron Memmott and Warren Neary or the wild ruggedness of works like those of KOLLABS and Siri Hollander, you're sure to find a horse work to inspire your free spirit at Gallery MAR.
---
RABBIT
In the words of renowned artist Hunt Slonem, "Rabbits are always welcome."  These symbols of luck and creativity have inspired many of our Gallery MAR artists. From the wonderful whimsical worlds of Hunt Slonem to the quiet sweetness of Pamela Murphy's paintings, you're sure to luck into a rabbit work for your home here at Gallery MAR. 
---
Written by Veronica Vale