January 19th, 2023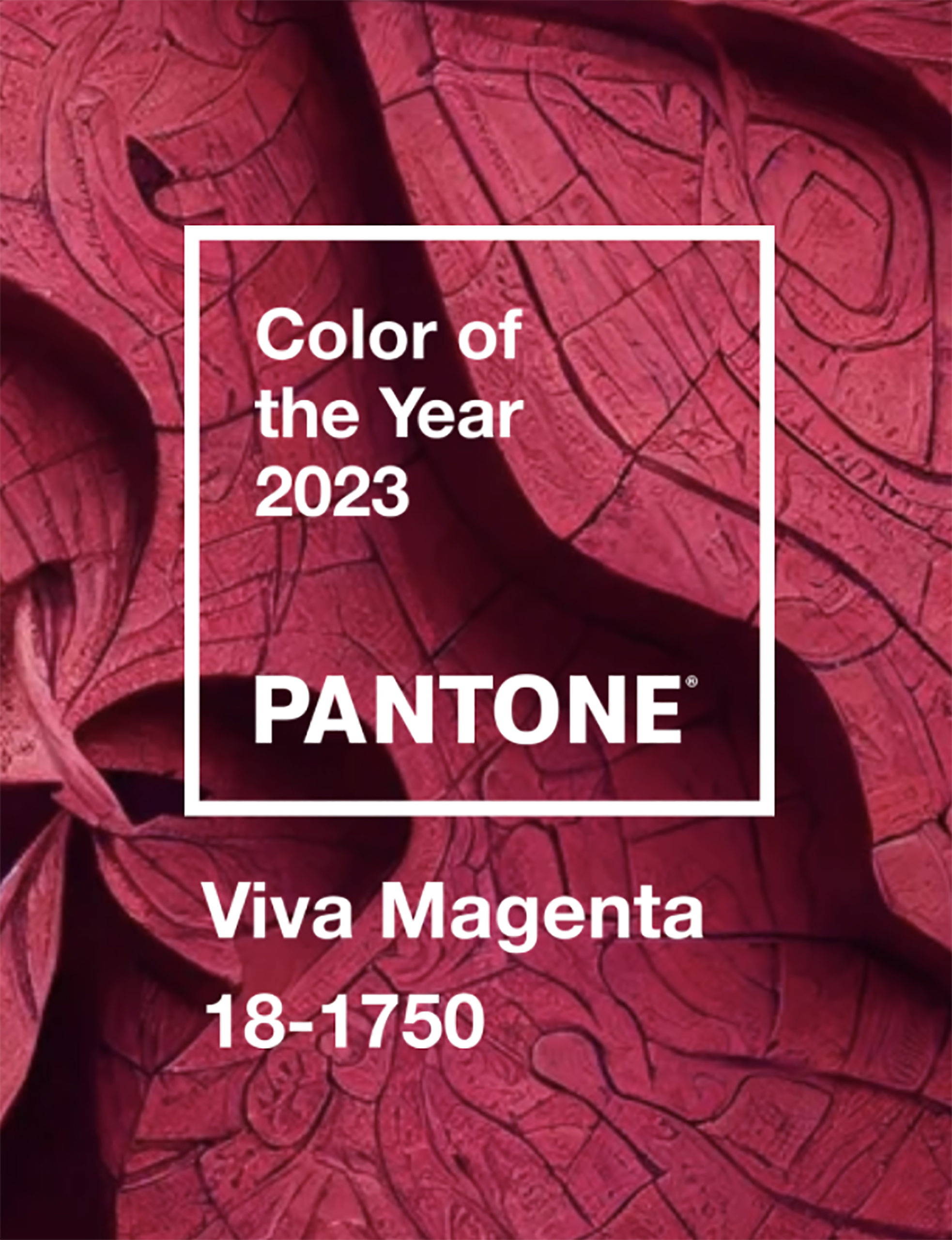 Welcome to the Magentaverse!
At the start of every new year, Pantone chooses a new color to represent the year ahead. This selected color predicts the upcoming trends of the year and gives us insight into what we can expect from the color palettes of the new year. This year's Pantone's Color of the Year offers us more than simply new trend predictions: it offers us a glimmer of hope for the new year during, a bright, vibrant bloom of color after challenging storms. 
Pantone's 2023 Color of the Year is the bold and invigorating color, Viva Magenta. After a long period of hibernation following multiple global enormities, Viva Magenta beams bright, evoking nature and promoting creative expression and self-empowerment. As Pantone Executive Director Leatrice Eiseman explains:
"In this age of technology, we look to draw inspiration from nature and what is real. PANTONE 18-1750 Viva Magenta descends from the red family, and is inspired by the red of cochineal, one of the most precious dyes belonging to the natural dye family as well as one of the strongest and brightest the world has known.
Rooted in the primordial, PANTONE 18-1750 Viva Magenta reconnects us to original matter. Invoking the forces of nature, PANTONE 18-1750 Viva Magenta galvanizes our spirit, helping us to build our inner strength."
In this way, Pantone's 2023 Color of the Year connects us to our roots and energizes us for our future. 
Inspired by this unique color choice, we've curated a few Gallery MAR artworks by our artists that captures the spirit of this strong, invigorating color. Here is what Gallery MAR has to offer in the Magentaverse:
---
Stefan Heyer
With its splash of vibrant Viva Magenta along the bottom of the mixed media piece, Stefan Heyer's work "Aquarius" seems like a beautiful prophesy of Pantone's 2023 Color of the Year. This energetic expression of bold color on the bottom half of the painting balances the more muted, neutral palette on the top half, creating a dynamic push-pull within the work.
---
Hunt Slonem
Hunt Slonem is renowned for his black bunny outlines on vibrant backgrounds, and these two works beautifully showcase just how alluringly vivid those backgrounds can be. The work on the left is even entitled, "Magenta." (We'll let you decide for yourselves whether to consider this coincidence or divination.) Either of these rosy colored works would make for a marvelous reminder of the guiding color of the year or an early Valentine's Day surprise for a loved one.
---
Ron Russon
Local artist Ron Russon explores cool colors in the backgrounds of his latest works, trading in saffron yellows and bright cadmium reds for muted teal blue and magenta. These soothing colors – especially this subtle shade of Viva Magenta in the lower right half – create a peaceful backdrop for his Western subject in this work "Bison Way."
---
Jylian Gustlin
Mixed media artist Jylian Gustlin is no stranger to bold, vibrant color. Her dynamic compositions are alive with movement, energy, and vibrancy, especially in her figurative work. This piece, "Sirens 11," contains the same vivid expressionism that she's become renowned for – this time with the inclusion of moments of the bold shade of magenta that Pantone has selected as the 2023 Color of the Year.
---
Allison Rash
Alison Rash's work is imbued with a sense of hopefulness and zest for life. Her "Beauty from the Ashes" series pays tribute to cancer survivors such as herself, paying homage to their journeys and resiliency through bold expression and color. These two pieces both use a brilliant shade of magenta to express these heartbreakingly beautiful sentiments. The work on the left is even aptly titled "Untitled Magenta."
---
Patrick St. Clair
Patrick St. Clair's exploration of the intersections between exterior and interior worlds is ever-dazzling to behold. This work "After the Rain" portrays the quiet, muted peace after the storm – an expression wonderfully in line with Pantone's explanation for their choice of 2023's Color of the Year. The magenta chairs in the center foreground of this painting serve as a perhaps inadvertent nod to this idea of bright, hopeful vibrancy after stormy times.
---
Jane Maxwell
Jane Maxwell's mixed media collage work depicts powerful women on the move. This strong, empowering subject matter feels well suited for this year's Color of the Year. In this piece "Pink Surfer," Maxwell combines her powerful imagery with shades of vibrant pink and bold magenta – an apt summation of this year's energetic hue.
---
James Wolanin
New Gallery MAR artist James Wolanin expresses the pure exuberance of memories made on the mountain in his work. These graphic style acrylic paintings capture ephemeral moments in time – ones of joy, power, or fun. This work "Toboggan Run" uses shades of magenta and periwinkle purple to create a scene of powdery joy. Interestingly, while Magenta is Pantone's 2023 Color of the Year, this shade of periwinkle purple is Pantone's 2022 Color of the Year, making this piece a fortuitous tribute to the times.
---
Jared & Nicole Davis
Jared & Nicole Davis explore the juxtaposition between the rough, jagged canyon walls and vast expanses of colorful sky in the Mountain West through their beautiful, luminous glass work. In this piece "Black Canyon Sunset," they capture the brilliant magenta hue of the setting Colorado sun over their home canyon, the Black Canyon of the Gunnison. As brilliant as this work may appears in photographs like the one above, it does not properly convey the dazzling radiance of the work when viewed in person in illuminating sunlight.
---
We hope these Gallery MAR works and their Viva Magenta color inspire you today. Which of these "Viva Magenta" Gallery MAR works inspires you with energy and exuberance? Send us a message or swing by the gallery to see these fresh works today.
Written by Veronica Vale and Eileen Treasure