July 31st, 2017
The working artist's studio… glamorous, it is not. The real beauty is not the space — but what it contains.
Over the last ten years, we have had the pleasure of visiting with several of our artists in their studios across the US. We often have this "grand notion" about an artist studio being a vast space with exceptional light, modern furniture, and ample storage. Cue the music and lighting, as Hollywood loves to glamorize this as well. In truth, the reality is very different: many of our artists work in quite small spaces with very few luxuries. Sometimes an artist's studio is in her own home or an adjacent garage. These simple spaces are a testament to the creative power, diligence, and drive of our artists. Every day they go to work (no matter where that is!) and produce enlightening, engaging, beautiful work.
Below, enjoy the inspiration of few real studio shots from our working artists.
Although she has since relocated to another space, this studio photo of Maura Allen offers a glimpse into her technique(as seen above). Her silkscreens lean one against the other with Golden paints stacked and lining her shelves. Every inch of this studio space was utilized, while still maintaining corners of inspiration and whimsy. Torn magazine photos, small sculptures and momento tokens hung from the walls. And overhead lighting and tall ceilings were a highlight of this bright space.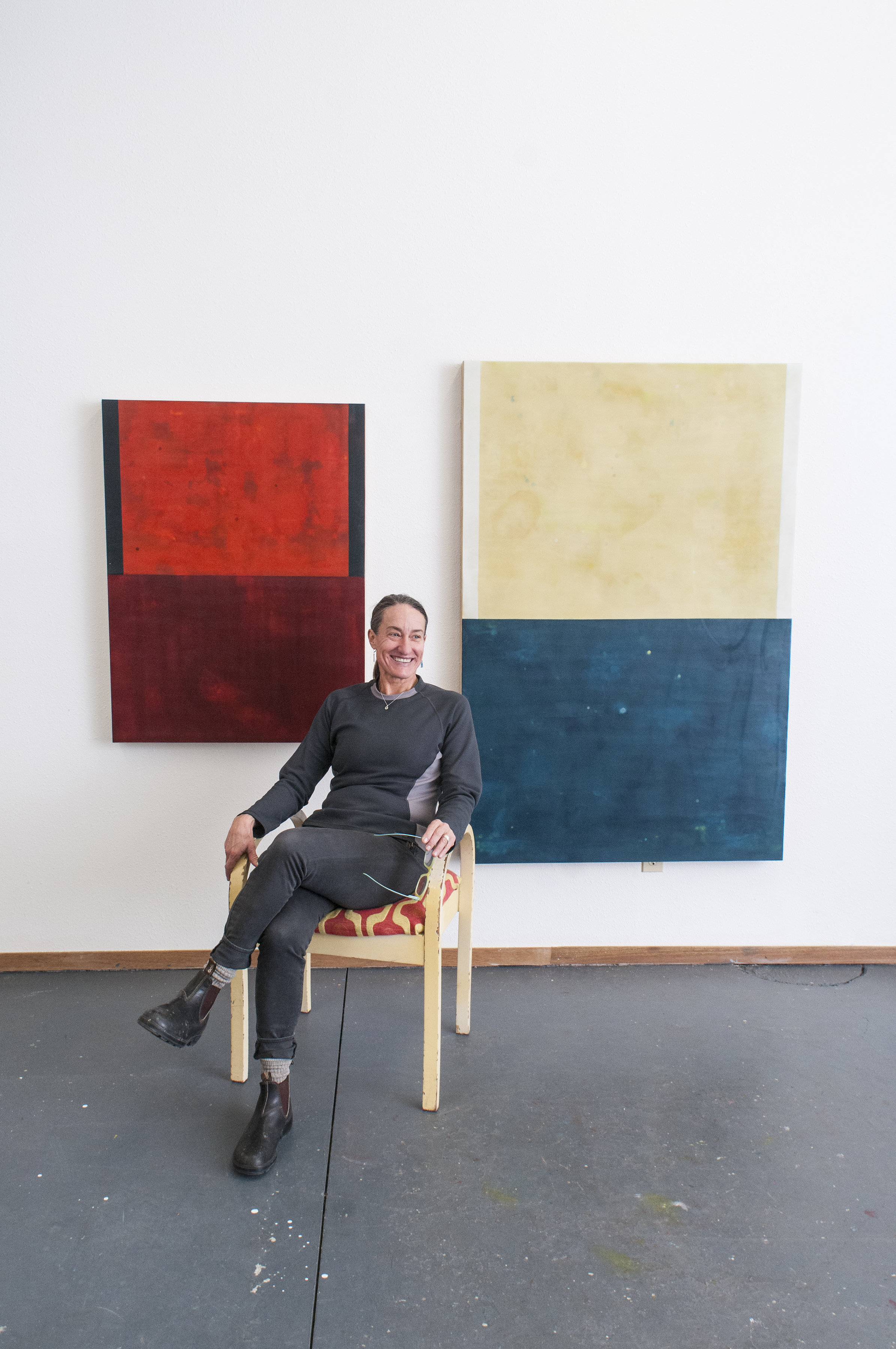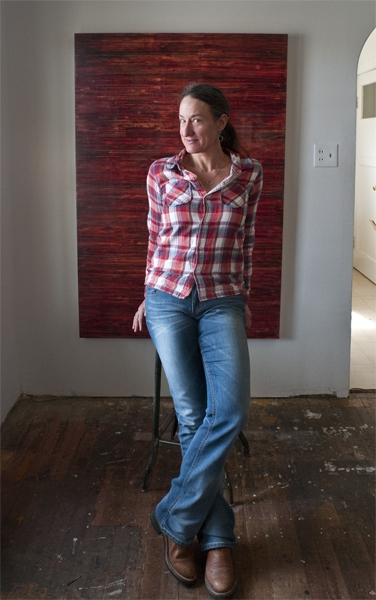 Shawna Moore, based Montana when she's not surfing in Costa Rica, recently relocated studios to a warehouse space. With tall white walls and a garage entrance, this studio is an industrial step up for Moore. It is quite a contrast from her previous space, a small square house near the railway station of her town. The old studio had a quaint garden (which we sampled when I visited in 2015), a separate office, and a Victorian exterior. But this space did not allow for the artist to create works as large as she wished to. The move has allowed Moore to grow in her practice in scale and vision. And the new space has ample storage room — always a plus.
Eileen Treasure, on our of fine art consultants, had the pleasure of driving through Matt Flint's home town in Wyoming and visiting both his family's bake shop Lander Bakery and the artist's studio. We have heard directly from the source for many years from that Flint's studio space was small. Tiny, really. And the proof comes when the artist must take the his paintings outside the studio (and hang them on his fence!) in order to photograph the entire piece. For an eight-foot long painting, it was the only way to fit it in the frame. This artist's studio is next door to his home, and has served Flint well for many years. But we are rooting for a new space for him. Funny enough, it was Flint's idea that sparked this blog, as he suggested an alternate title for a Wall Street Journal article about the iconoclastic homes of artists. Flint's version of what the honest title should be? "The Cobbled Together Mess That The Working Class Artist Lives In."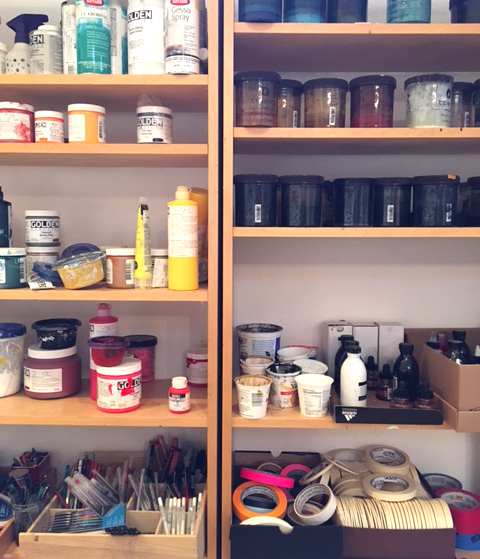 When we met Nina Tichava, the artist had two studio spaces — one in Seattle and one in Santa Fe. Now settled and working in Santa Fe alone, she has chosen a historic adobe studio space down a dirt road in an enclave of other studio spaces. Near Canyon Road, Tichava creates amongst other artists. The space is tight, but you cannot beat the location. One of the most organized artists we have the pleasure of working with, Tichava's studio is no exception: each material has a place and a reason for being in her space. Nearby, a stream wanders behind the adobe studios. A small bed, a place to rest, hides behind a stack of in-process paintings. We have a feeling she doesn't rest very often.