May 7th, 2023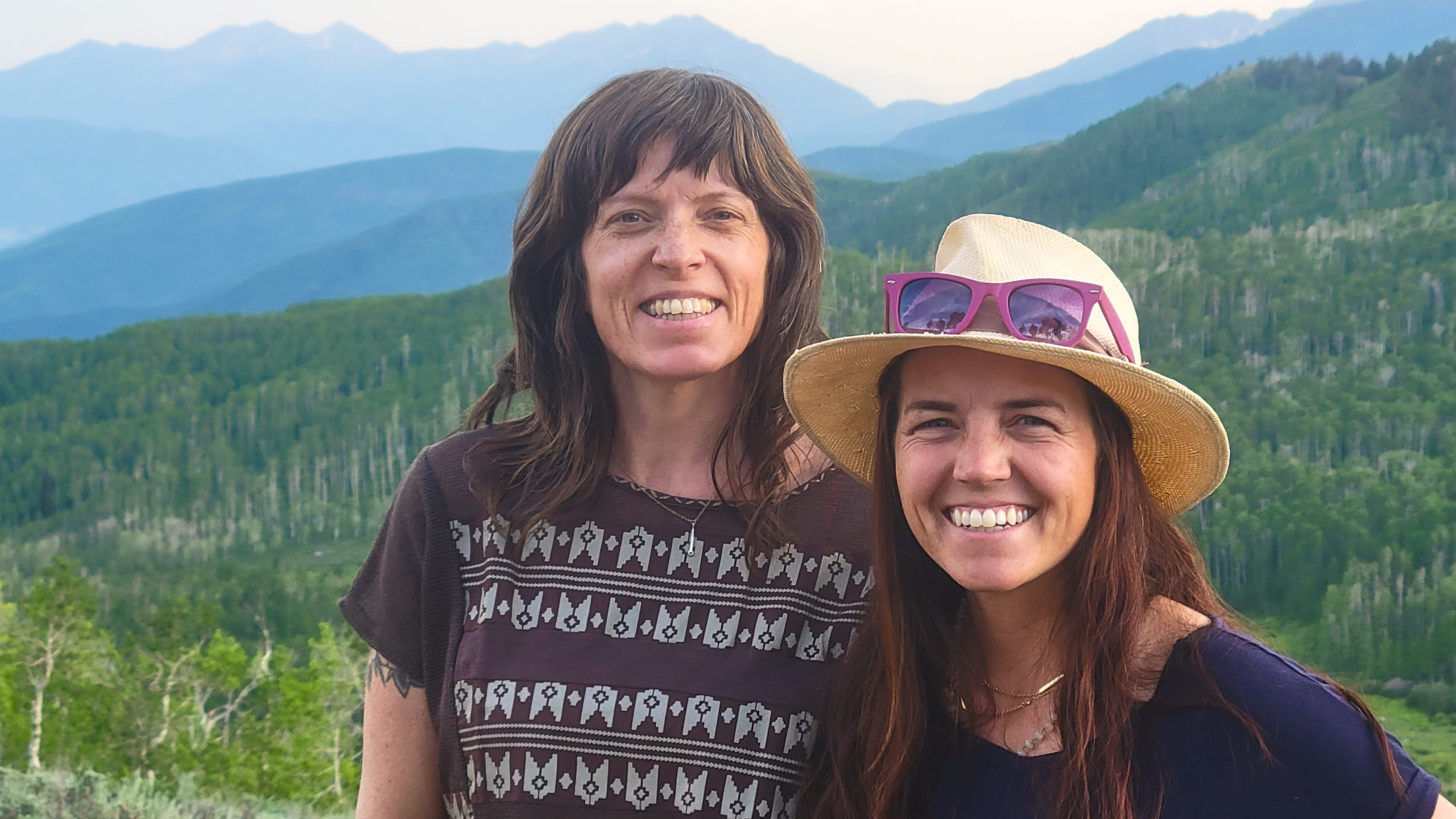 At Gallery MAR, we have always strived to curate an environment for our collectors and our artists that is positive, inspiring, and uplifting. We love to see how the different styles of our artists' pieces work together in the bright, modern setting of our gallery. Similarly, we love to see the ways in which our artists themselves harmonize together. Several of our artists have actually formed close, lasting friendships with each other through their relationship to Gallery MAR.
We're always inspired to see the support and occasional collaboration between our Gallery MAR artists, so we wanted to share those heartwarming connections with you, our collectors and friends. We've asked some of our artists how the friendships they've forged through Gallery MAR have impacted their lives and careers — and why forming relationships with fellow creatives is important to them.
---
MATT FLINT
"Art making, especially painting, is mostly a solitary endeavor. I live and work in a small town in Wyoming and there are not many full-time working artists to connect with. While solitude is something I enjoy, every now and then I need to bounce some ideas off of someone, or I need some emotional and mental support, or I just want to dish on what is happening in the larger art world. One of the first shows I ever had at Gallery MAR was with Michael Kessler and Shawna Moore. Shawna and I share a love for mountain sports, painting, art history, and contemporary art. Over the years, we have been each other's sounding board, and support for when things get rough, we have mentored an emerging artist together, we have celebrated successes and lamented failures, provided hope and positive messages to one another, and just been available for each other at any time night or day. We have had some great discussions on the deck of Shawna and her husband's house in the warm sunlight reflected off of the lake in Whitefish, MT, or in my hometown at the bakery that my wife and I own, or mountain biking on our favorite trails, or in each other's studios. Artists, like everyone else, need connection and someone that "gets" what the other does to stay healthy. I am fortunate to have a friend that I know has always got my back." – Matt Flint
---
KOLLABS
"When I first moved to Denver I was so happy to know that Sarah [Winkler] was having an art opening around the corner from where I just moved to. I went to her art show and was so happy to meet her. She's wonderful and we get to see each other when we are both not slammed in the studio and look forward to more visits. It's really nice to have other artists as friends that fully understand in depth and the ins and outs of being a professional fine artist." – Anke Schofield of KOLLABS
---
SARAH WINKLER
"I was delighted to learn that fellow Gallery MAR artist, Anke Schofield from the Kollabs creative duo moved to Denver a year or so ago. I have been a fan of her work for a while. I had bought a Kollabs bison piece at Gallery MAR a few years back and love living with their art. It was a treat to get to visit her studio in Denver when her creative partner, Luis Garcia-Nerey was there too from Miami. We have become fast friends and enjoy hanging out for BBQs up on the mountain or arty outings in Denver. Gallery MAR is a unique gallery for me in that it fosters close relationships with its artists, collectors and the gallery team.  I value all the friendships I have there with not only Anke and Luis but also with Maura Allen, Shawna Moore, Nina Tichava and Bridgette Meinhold too. All through that special Gallery MAR connection." – Sarah Winkler
---
NINA TICHAVA
"Whenever we're in each other's city (Santa Fe for me, Park City for Bridgette, Denver for Sarah) we do our best to get together for cocktails, dinner and hikes. We all have dogs so our conversations are focused on art, travel and canine behavior! We help each other with shipping and supply chain recommendations (always a challenge) and sometimes will miss each other because we're all on the road making deliveries at the same time. It's great to have girlfriends who know the business so intimately, we share the same language and experiences which strengthens our relationships." – Nina Tichava
---
BRIDGETTE MEINHOLD
"My friendships with fellow artists is an unexpected pleasure that has slowly developed over the years. I don't have coworkers, no one to chat with by the proverbial water cooler, so on the most basic level my friendships with other artists have been like having coworkers, but obviously better, because I genuinely enjoy these people and make a point to visit them. Of course, we talk shop, about sales, materials, shipping, woes, joys, successes, but also about life, mental health, and the most fun, art. It's hard to talk about art with other people besides artists and only they get the concept of what it means to make art. So for that alone, I am so grateful for their friendships. No one else understands the highs and lows of the creative life like another artist and I never knew I needed that fellowship until I had it." – Bridgette Meinhold
---
R. NELSON PARRISH
"For me, forging friendships with other artists is exceedingly difficult — I can be hyper competitive — so I covet the ones that I have. Bridgette has this amazingly kind soul, combined with her Stanford engineering brain. We dive into a lot of existential/life questions and can spin them three dimensionally while interjecting the 4th dimension of emotion and "what does it all mean?" In the end, we know that it is mostly moot, but enjoy the process of unpacking the impossible.  In the battle of making the world a better place, and I needed to call on an art sister in arms/art shield maiden, it would be Bridgette.
Other relationships, you do need a balance, but also someone who keeps you on your toes in the best way possible. And of course, there is simply that indescribable instantaneous kismet that happens as soon as you get talking to someone — as if you have known them your whole life.  Havoc [Hendricks] — for me — is definitely one of those people. I thoroughly enjoy his sense of humor and the appreciation of the ridiculousness. Want to talk about a kitten with laser beam eyes flying through space on a slice of pizza? What t-shirt size are you? True story.
I could go on and on, but in the end, it really gets down to time and energy. Bridgette sent me a note recently quoting, 'it is not about how you spend your time, but where you put your energy.' It should go where you get energy back, not taken away." – R Nelson Parrish
---
HAVOC HENDRICKS
"There's a couple people from the gallery that I feel especially lucky to have crossed paths with. I had the extreme luck to have known Jonathan Julien long before either of us were in Gallery MAR. I was painting on the side while delivering flowers for my day job while Jonathan was already committed to the arts full time. Watching him advance in skill & prestige was so inspiring & it was a little mind blowing to get to eventually share a gallery space with him. But even beyond that, he is one of the purest, most innocently mischievous persons I've ever met & he falls into that slim category of people that make you feel like there's still hope for humanity. I'm very lucky to get to call him a friend.
Before I ever met R. Nelson Parrish I decided that he was probably the coolest person on the planet based solely on how cool his art was. Nobody has taken resin art down the road that he has to the extent that he has. R. Nelson Parrish really helped me feel comfortable stepping into such a great & efficient gallery environment & I gained a lot of confidence from just watching how casually he can navigate that same environment. You might expect the coolest people to be out of reach but R. Nelson Parrish is approachable & so down to earth that it just makes him even more admirable.
Bridgette Meinhold is another artist who really has this attractive personality that you just want to hang out with as long as possible.  She's 100% authentic & she helped me see right away that there's no other way to be in a gallery setting. Her work speaks for itself but I think she's also one of those rare artists that truly embodies her work & it feels like an element of her character really is embedded into each piece she makes. I'm always a little more happy & confident after spending time with her.
Michael Kessler feels like a living legend to me. He's a bottomless well of artist experience & he doesn't hesitate to share anything at any time. I had a fear in the early stages of my own artist journey that other artists would be guarded & competitive — but Michael is the exact opposite. Nothing is more comforting knowing that I can ask him anything & see that he's even eager to share." – Havoc Hendricks
---
SHAWNA MOORE
"Friendships have sustained me through the joys and struggles of my artistic life. I'm not sure if I would have known Matt Flint without Gallery MAR. We met at our first exhibition together in Park City. Lately we have been sharing our experience of being mid-career artists and the differences that exist in the art business vs. the experience of freedom that comes from creative practice. Certainly those two aspects can exist simultaneously but to be honest, painting for an art market and painting purely for my own needs sometimes feels in opposition. Matt and I have long phone calls between Wyoming and Montana trying to figure out how to find balance in art and life.
And then there is Michael Kessler, the relentless king of art and life. My first visit to his studio in Santa Fe both crushed me and set me free. We knew each other from a gallery we both showed in and he opened up his art world to me with kindness and verve. It's been amazing to watch him over the years.
And in keeping with the artists of Gallery MAR there is Bridgette Meinhold. Initially she was my student in a class at the Kimball Art Center but it's been great watching her grow her career. We are lucky, our husband's like each other so we get to sneak in bike rides or skiing when we all get together." – Shawna Moore
---
MICHAEL KESSLER
Artists form lasting friendships with other artists and sometimes these relationships are extremely powerful but in my experience they are rare. Jealousy and envy often play a big role in how open and willing artists are to get close to other artists. There is an enormous amount of disparity between artists and it seems that a very small number of them receive the lion share of attention and money. The star system is at play in the arts so naturally they guard themselves.
As a young artist I was very eager to get to know older more established artists and some of them were extremely generous and helpful in many ways. I found my mentors and that made an enormous difference in my career. What became clear to me was that as a young aspiring artist it was my responsibility to find my mentors. I discovered that I was the one who had to initiate those kinds of relationships. It was also very obvious that it was up to me to maintain those connections. I think many young artists haven't figured this out or are perhaps too shy to attempt this. In any case these kinds of older/younger artist relationships are common.
The peer-to-peer type relationships are far more difficult and rare. I am fortunate to have a few good friends who are artists and I value them greatly. 
One such relationship I highly value is with Shawna Moore. We do not see one another as competitors. The conversation flows easily and naturally and we check in with each other quite often. I think our mutual respect is the basis of a healthy friendship. We can be honest with each other and share a wide range of opinions and ideas. We each have our own separate perspectives and our work is very different from each other so there is never that issue of "who originated that aspect first…" I think originality often becomes an issue that can hinder closeness between artists. 
There are many things that keep artists from forming close ties with other artists. If you are fortunate enough to have a few good artist-friends then I think you are grateful indeed." – Michael Kessler
---
Thank you to our many Gallery MAR artists for their contributions and for offering us insight into the inspiring friendships they've formed with other Gallery MAR artists.
Written by Veronica Vale