December 20th, 2022
In our blog series, "Picture This," we use the magic of Photoshop to present our artists' latest artwork in a whole new light and offer you a few of our tips and tricks for brightening up your home. So if you're unable to make it out to the gallery in person, we hope you'll enjoy a virtual viewing of our fresh, bold art in beautiful, modern settings.
In this holiday installment of the series, we share a world of winter wonderland Gallery MAR artwork to bring beautiful joy and cheer to your space this holiday season.  So if you're on the hunt for inspiration, or if you're looking for new ways to liven up your space, start with these stunning pieces in dreamy spaces.
---
NOW, PICTURE THIS: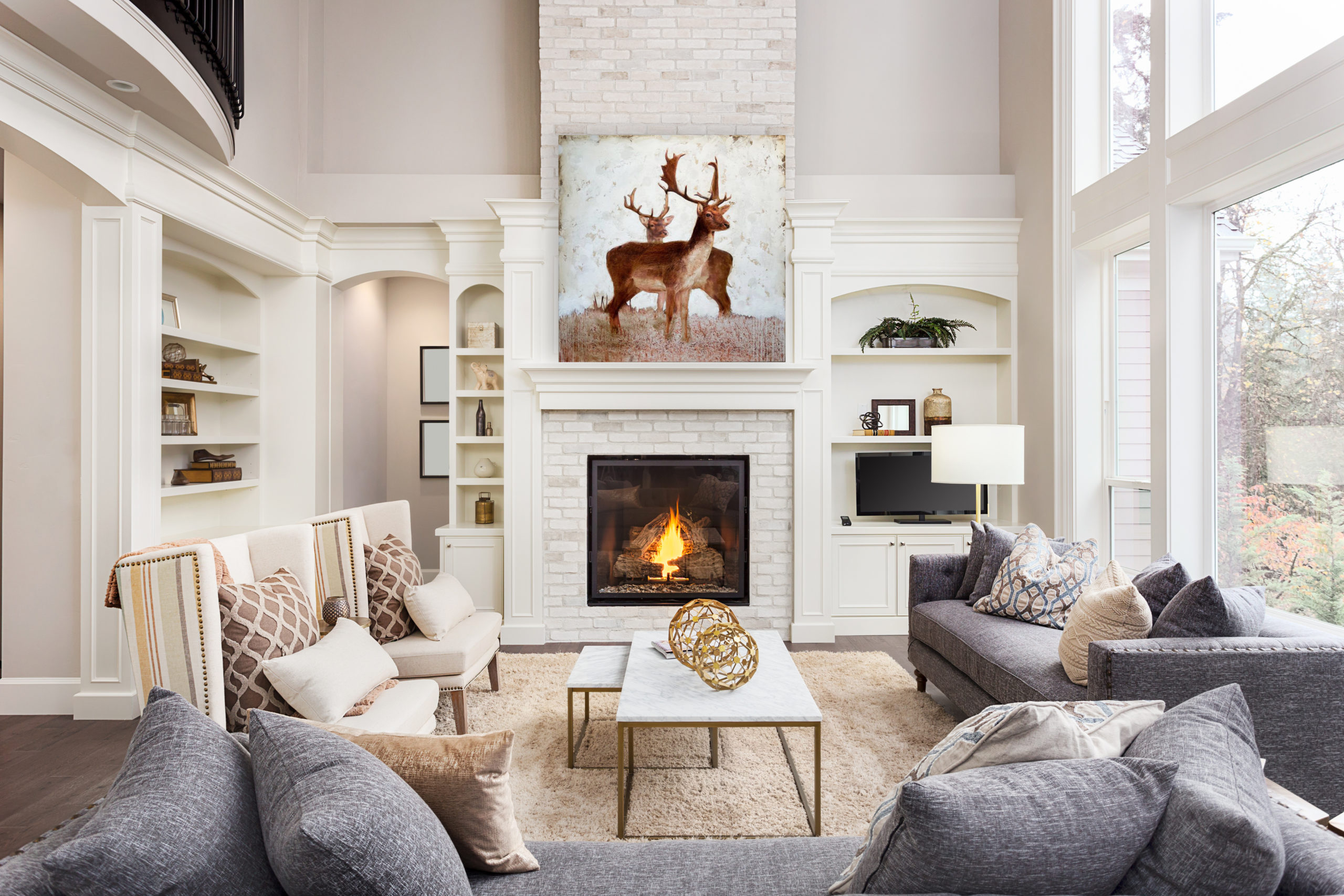 This holiday season is all about gathering around the fireplace with the ones you love. The core of your hearth and home deserves a work that brings the whole family a sense of joy and peace. The muted, limited color palette and serene gaze of the deer in KOLLABS' mixed media piece, "Princeton & Mylo," delivers that  powerful, yet understated feeling of peace to your home. Plus, the warmth that emanates from this piece, in color and in subject, would harmonize well with any cozy hearth and home.
GET WITH THE PICTURE:
---
PICTURE THIS: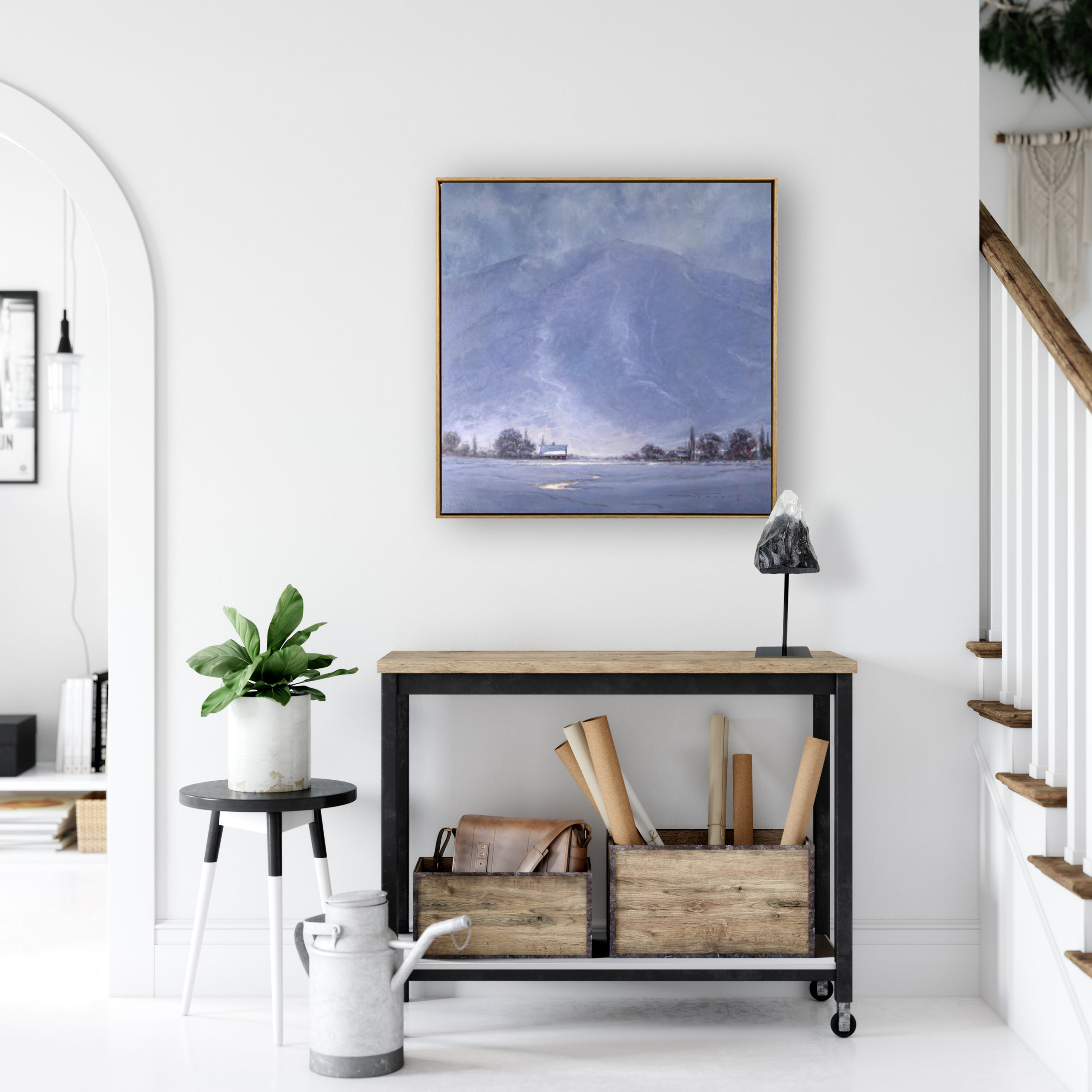 Winter reminds us of the power of nature and the importance of home. Few artists capture these themes with quite as much justice as landscape artist Warren Neary. The wintry scenes of Warren Neary's oil paintings put into perspective the majesty and power of nature – simultaneously awe-inspiring and foreboding – alongside small, powerful moments of human resilience and solace. The tiny manmade details in Warren Neary's landscape work, like the small structures at the base of the mountain in his work "Into Silver Hour," sparkle with the promise of shelter and warmth. This beautiful portrayal of home in the winter mountains resonates all the more deeply in this winter season.
Plus, the new sculpture work of Havoc Hendricks pairs perfectly with this portrayal of the power of nature. Havocs delivers a sense of boldness and strength on a small scale with his work "Snow Capped Onyx."
GET WITH THE PICTURE:
---
PICTURE THIS: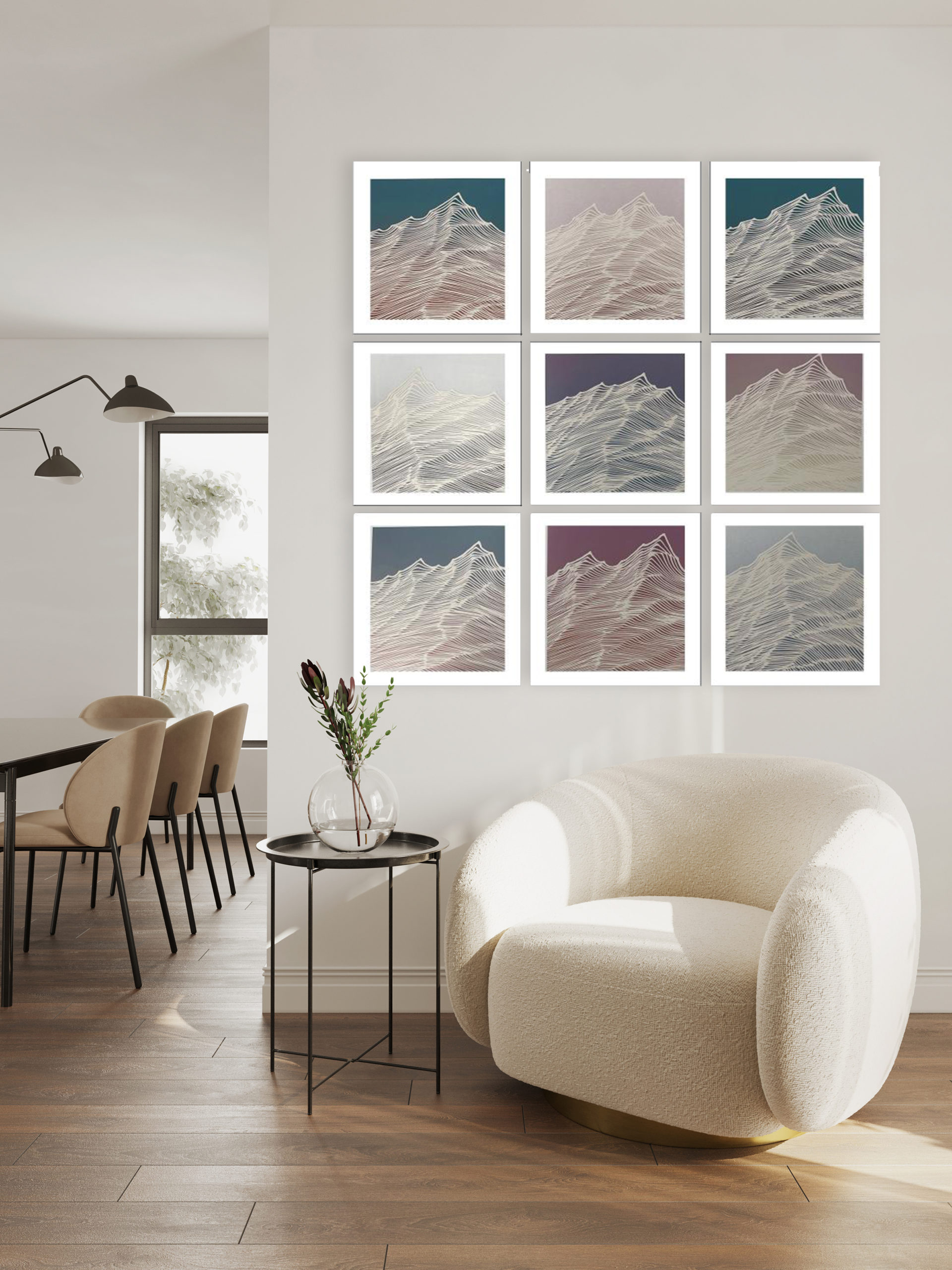 The detailed minimalism of Havoc Hendrick's mountain works express the simple, refined beauty of the mountaintops, especially in winter. The intricate white lines call to mind the rugged rock and pristine white snow of ski runs, like those in and around our beloved Park City. Plus, the crisp lines and bold, wintry colors of this grid wall harmonize beautifully with a more modern home like the one pictured here.
GET WITH THE PICTURE:
---
PICTURE THIS: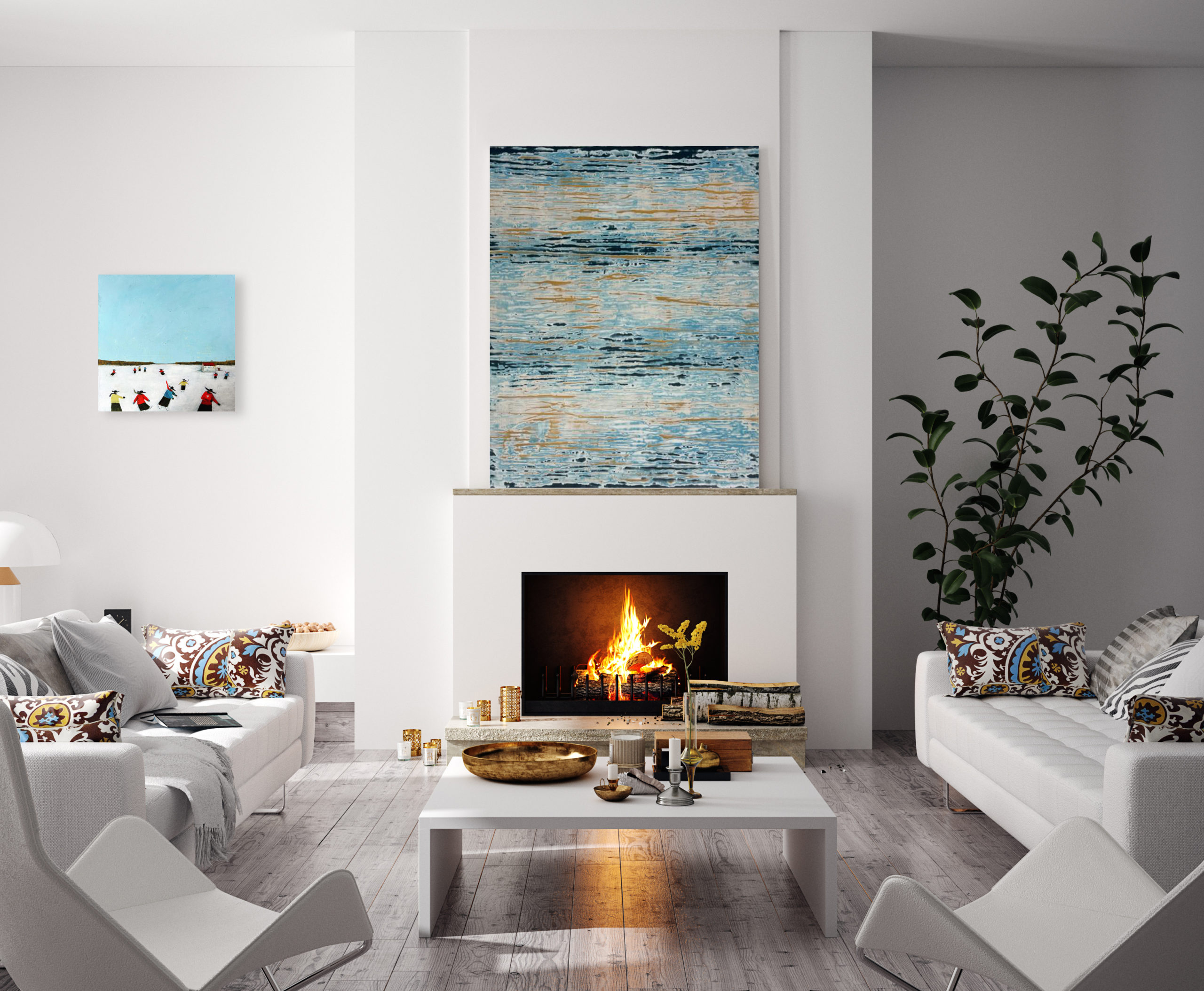 Both this encaustic work by Shawna Moore and this oil painting by Mary Scrimgeour know how to balance cool, wintry tones with accents of warmth. These pieces pair beautifully with a fireplace mantle and a cozy night in with the ones you love.
The rich textures and striations of Shawna Moore's encaustic work reference nature's elements, bringing the alternating power and serenity of wind, earth, water, and fire. into your home.
In Mary Scrimgeour's work, "Monk's Skating" the whimsical subject and style of the skating monks paired with the vast expanse of soothing blue negative space creates a feeling of simultaneous playfulness and serenity. This piece is certain to deliver peace and joy all year long but certainly feels all the more magical this time of year.
GET WITH THE PICTURE:
---
PICTURE THIS: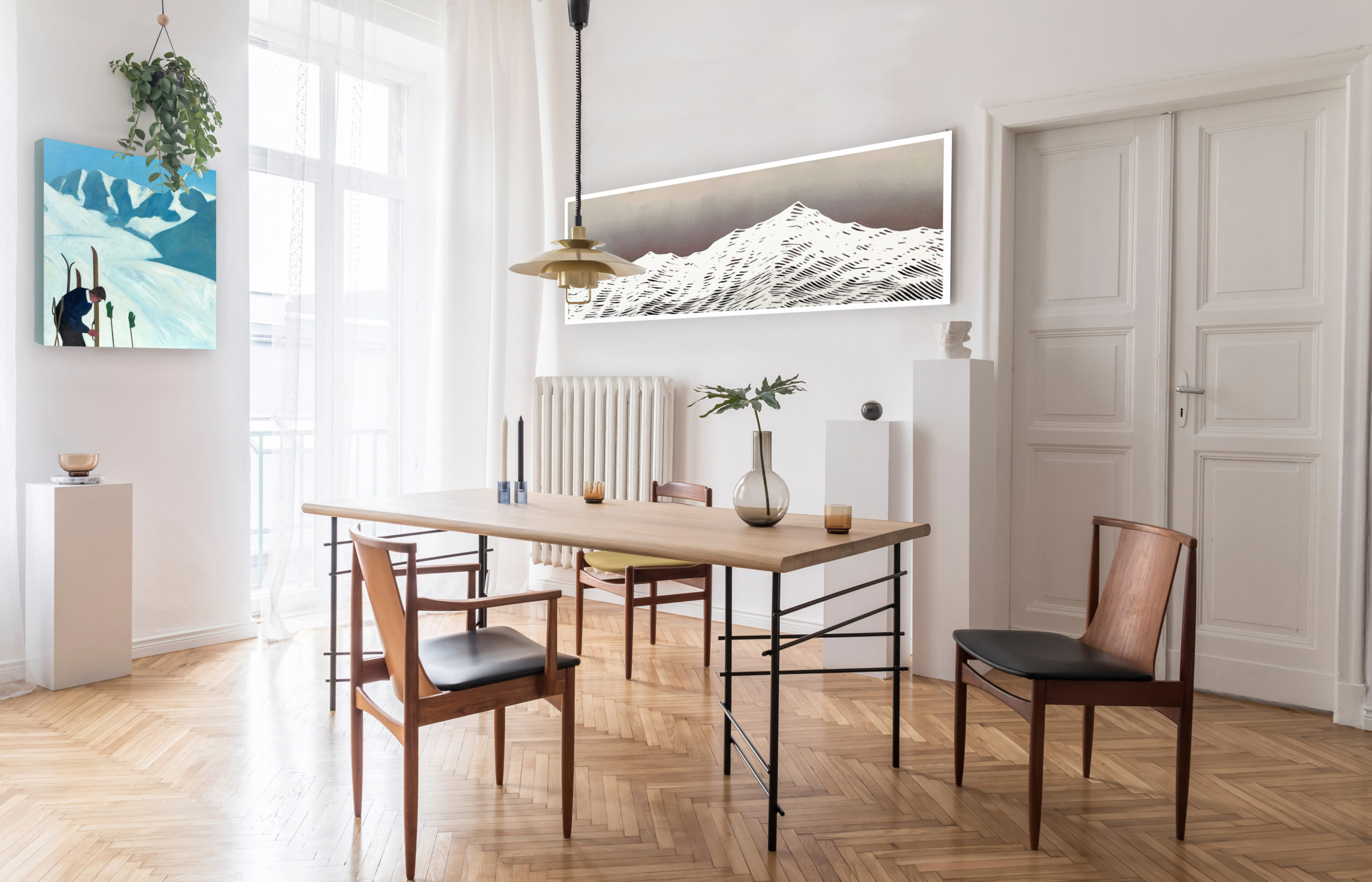 Step into a winter wonderland with Havoc Hendrick's new work "Another Dimension." In this piece, Hendricks' signature linear work converges into larger, bolder blocks of wintry white on jagged mountain peaks. This long horizontal piece is ideal for those large spaces that need a touch of majesty.
The wintry work of T.S. Harris captures the magic of ephemeral moments on the mountain with loved ones. This work, "Poles and Skis" distills a moment of powdery joy and transforms into an a painting of power and beauty for generations to enjoy. Although vintage-inspired, her paintings feel refreshingly timeless.
GET WITH THE PICTURE: 
---
We hope this holiday installment of our "Picture This" series has given you some art inspiration for your home and shown you new art to love. If you'd like to see how a piece might look in your space, let us know and we'll be happy to apply some more Photoshop magic just for you.
Written and Photoshopped by Veronica Vale