March 27th, 2023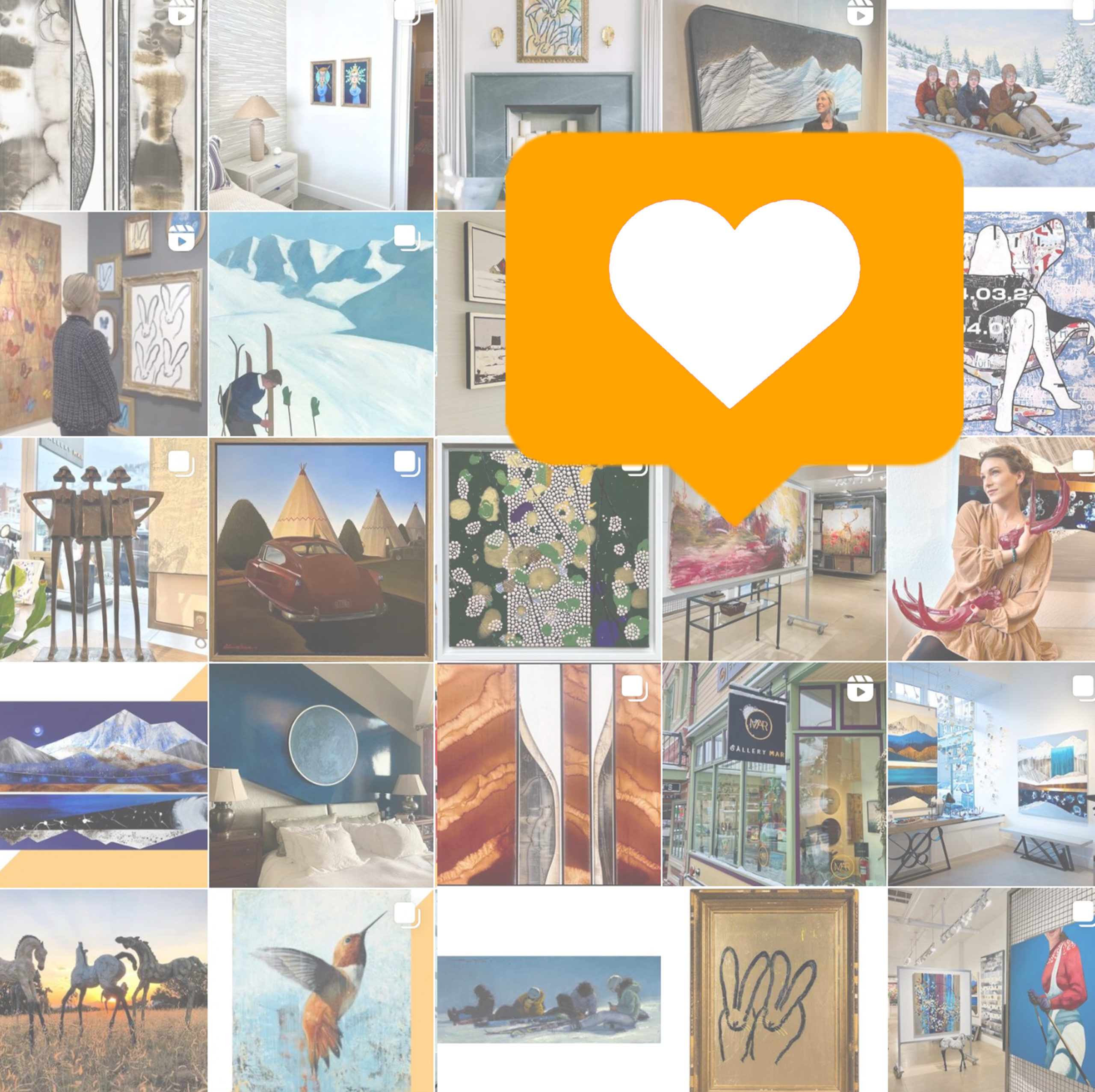 There's no doubt that the introduction of social media has forever changed the art world. We can now share our love of art and connect with fellow art lovers faster and more globally than ever before. Through social media, art galleries like ours can now connect to an even broader audience and stay in touch with our collectors long after they leave our Park City paradise. 
In Art Republic's piece The Power of Social Media: How Instagram is Changing the Art world, Imogen Aldridge writes "Small changes such as galleries broadcasting their exhibitions and artists sharing their creative process are opening up the art world to a wider audience, and building the foundations for a more collaborative art community. After the isolation of the last two years, there is no better time than now to nurture this online space and embrace these new connections."
We could not agree more. At Gallery MAR, we use social media to help our collectors, artists, and any art-loving followers peer through the looking glass of life in an art gallery. Through our social media accounts, we're able to provide behind-the-scenes updates on the gallery and the artists we represent, offer first glimpses of fresh new arrivals and installations, and promote engagement with the greater art community. It's also a great way for our artists to see what we are up to! 
To glean greater insight into the ways in which social media can enhance your art gallery experience, we spoke with our Gallery MAR social media manager Madison Baer. Here we've outlined a few of the ways in which our social media helps us stay more connected with our collectors than ever before:
---
FRESH ARRIVALS

Be one of the very first to see new art in the gallery, fresh from our artists' easels. We love to post about the latest collections from our artists and even often feature unwrapping or unboxing videos of our artists' work so you can get a glimpse of the latest artwork before they're even on our walls.
---
BEHIND-THE-SCENES GALLERY LIFE

Learn about what it's really like to run and operate an art gallery in Park City, from fun time-lapse videos of new exhibition installations to behind-the-scenes videos of daily operations of an art gallery. Let Gallery MAR owner Maren Mullin take you through her morning routine opening the gallery or watch how our Fine Art Consultants hang some of our largest pieces through social media.
These peeks-behind-the-curtain are an important part of what makes social media so fun and engaging, according to our Social Media Manager Madison Baer, "When it comes to engaging with the online community, it's always important to offer something special. People want inside access that they wouldn't otherwise get. When collectors follow us, ask us questions in our direct messages, or engage with our posts, it's what keeps the relationship strong. Social media is not just marketing: it's also customer relations."
---
BEAUTIFUL ART GALLERY CURATION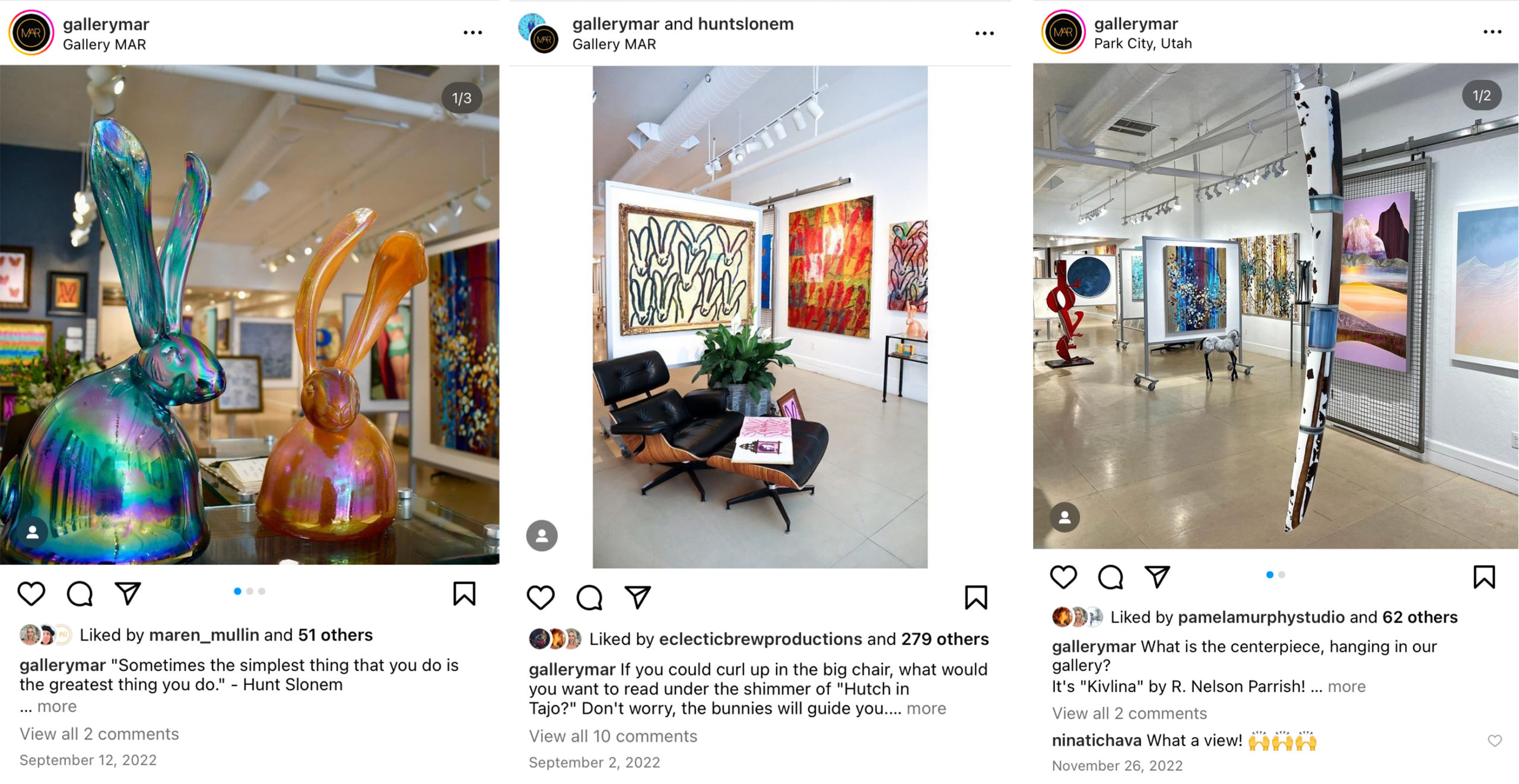 For our non-local collectors, we love to give you a little insight into our current gallery installations. Sometimes it's helpful to get a sense of the scale of works or how different artists' works harmonize together in a beautiful, modern gallery setting. If stopping by the gallery in person is not an option for you for whatever reason, you still get to experience careful, thoughtful art curation. After all, the beauty of an art gallery is not just seeing beautiful works of art, but visualizing how the works can shine in a beautiful setting, like your own.
Madison Baer reflects on how experiencing the gallery through social media can forge greater connection: "Social media is so important for art galleries – or really any business in today's day and age. It's a direct connection with collectors even when they are not in-person at the gallery. When it comes to social media, it's a world full of curation and call-to-actions but the key is authenticity."
---
ARTIST UPDATES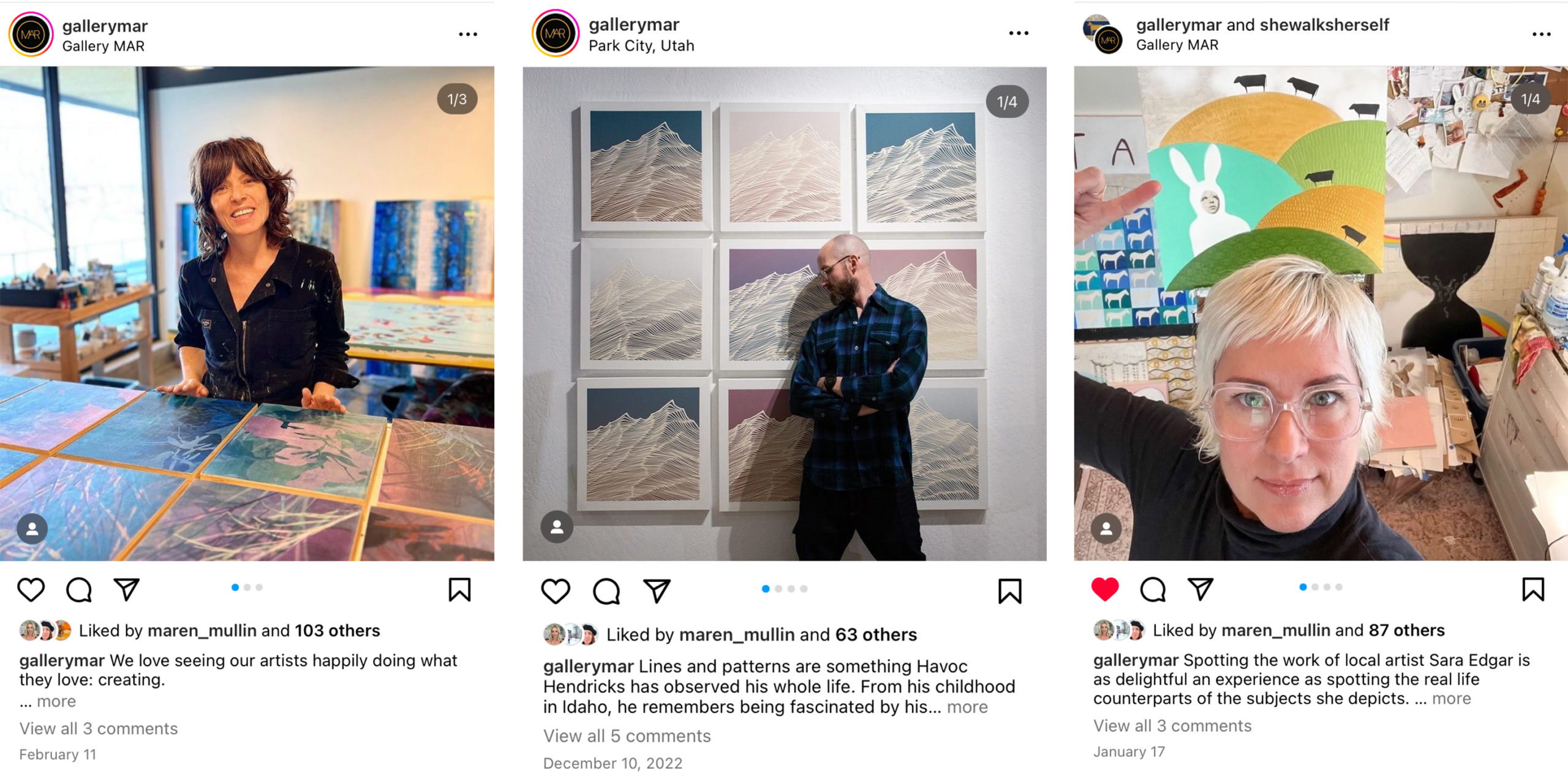 Stay in the know on the goings-on of our 35+ artists with updates about their lives and work, from new artist residencies (like Nina Tichava's new Austin, Texas studio), to sneak peeks inside their studios, from new artist exhibitions to in-depth artist interviews from our Blog.
"For us here at Gallery MAR, my goal is to highlight the passion that owner Maren Mullin has for the artists she so loving curates and represents," Madison Baer says, "Maren is incredibly knowledgeable about her artists' work, processes, and unique motivations. I want that to come through with every post. Highlighting an artist's background, their process, or those unique, fun facts about what went into a painting is what I aim to do.
---
STUNNING IN SITU PHOTOS

Find inspiration for your space with stunning in-situ images from our collectors' gorgeous homes. We'll show you the latest and greatest home installations with tips on how to recreate the look and inspire your space. Sometimes, we'll even help you visualize an available piece by using our Photoshop magic to present the work in a beautiful home setting. 
---
UPCOMING GALLERY EVENTS

Stay up to date on upcoming gallery events like exhibition openings, new corporate collections and collaborations, local gallery vendor pop-ups, group experiences (such as our recent Floral Experience for Valentine Design), and so much more. Through these events and through our social media posts in general our aim is to "educate and inspire, but, most importantly, to have fun." After all, as Madison Baer puts it, "Social media should be entertaining."
---
Here at Gallery MAR, we want to curate an art experience for you, our collectors, not just in the gallery but online too. Whether you're a long-time collector, art lover, art-curious, or even just researching things to do for your next Park City vacation, consider connecting with us on social media and join in on the inspiration and fun. 
Here's how to connect with us on social media today:
Facebook: @GalleryMAR
Instagram: @gallerymar
TikTok: @gallerymar
---
Written by Veronica Vale and Madison Baer