January 7th, 2023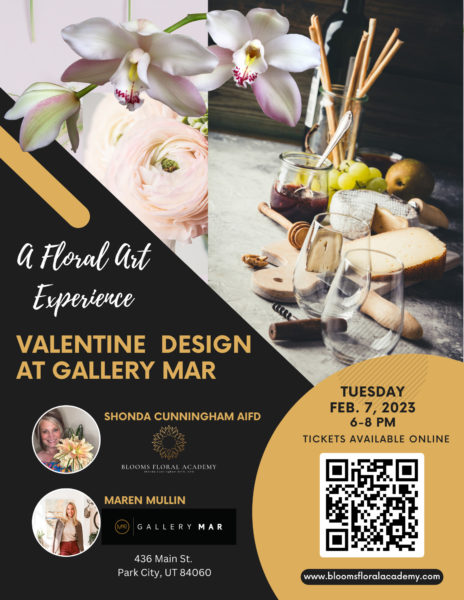 Date: Tuesday February 7, 2023
Time: 6:00 pm to 8:00 pm $158 per couple
If you enjoy great music, fabulous art and flowers, this is a design experience you don't want to miss. It's a relaxing date night experience before the Valentine's rush!
Come join us and enjoy charcuterie, drinks, and original art, while creating a modern floral art design of your own. Everything you need to create your floral piece will be inclued. Seats are limited and each ticket is for two persons.
*Event tickets are non-refundable*
Get your tickets here: Valentine Design Experience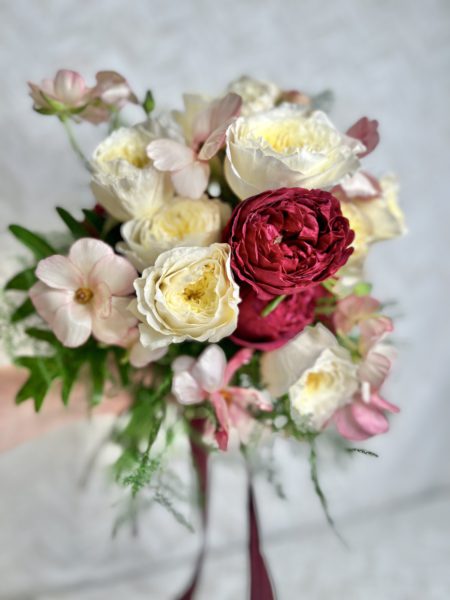 About the floral designer, Shona Cunningham
Over the past twenty eight years, I have been successfully employed in varying retail settings from traditional florists, to those emphasizing large wedding and event clientele.  Most recently I have I have been working full time in Park City at Silver Cricket Floral Atelier as the flower Room Manager and Lead designer.
Here you will find a link to my Instagram, with some of my designs https://www.instagram.com/shonda.cunningham/
SERVICE AND ACHIEVEMENTS:
AIFD Accredited Designer through the American Institute of Floral Design (AIFD). (Induction July 2002)

Certified Floral Evaluator through the American Institute of Floral Design (AIFD).

2019-2020 President of the South West Region of the American Institute of Floral Design (AIFD)

2019-2020 Director at large, National Board of Directors of the American Institute of Floral Design

2017-2019 Board of Directors for the Floral Association of the Rockies (FAR)

2017 Floral Association of The Rockies Designer of the Year Award

2013-2014 Utah Professional Florist Association Designer of the Year Award and past president

2013-First place winner and the winner of the Ned Favero Art in Bloom Award of Excellence through the Ogden Eccles Community Arts Center.

2003-Arizona State Floral Association Designer of the Year Award and past president

2019 AIFD Awaken Symposium Main Stage Presenter/Designer

Designs published February 2019 in Florist Review and Floriology Magazines

BS in Business and Marketing from Northern Arizona University

Double Master of Education in Administration and Curriculum Design

Associate Degree in Fashion Design and Merchandising