July 3rd, 2022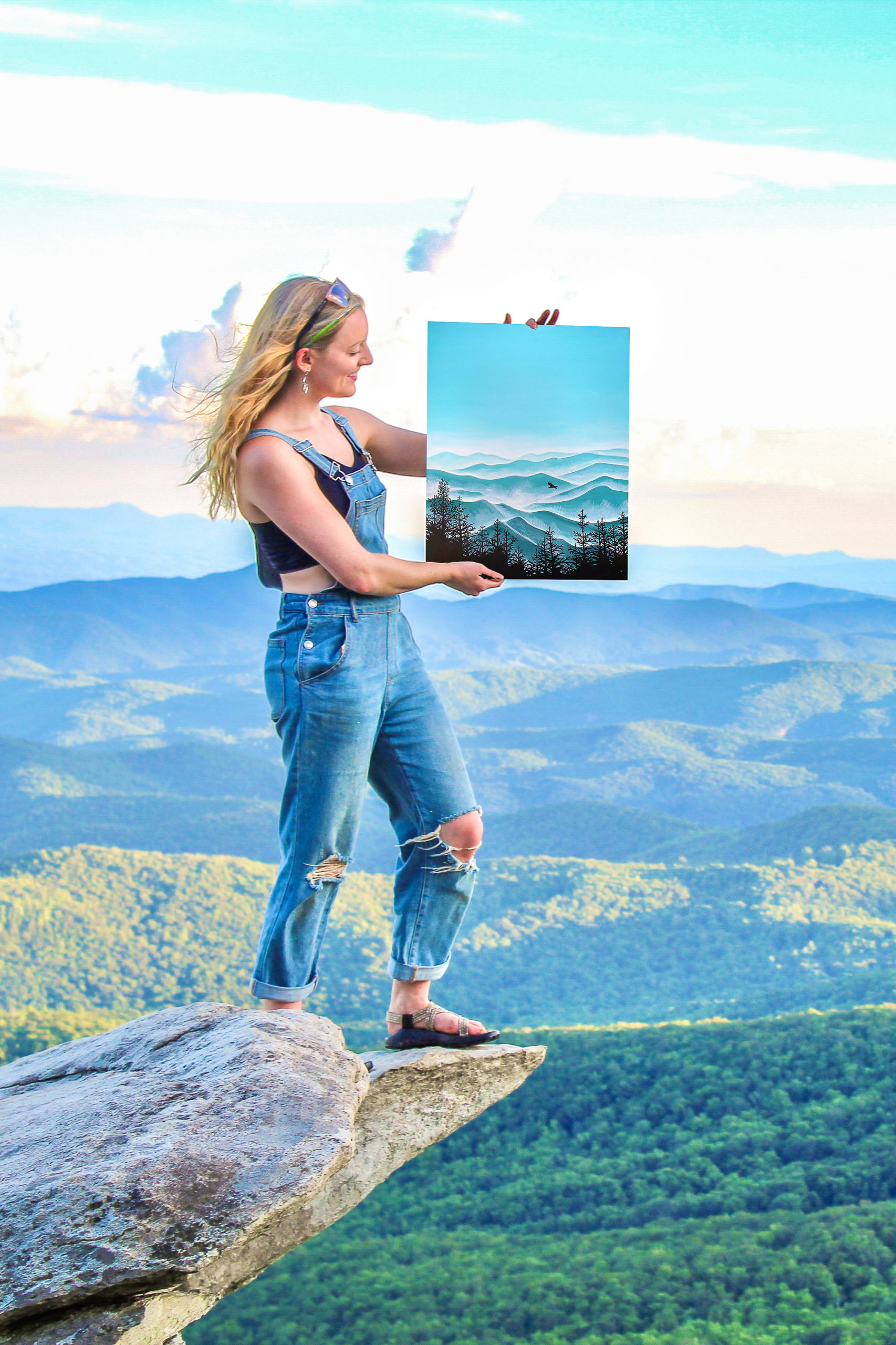 Just who is the expert author behind our most popular blogs? It is Veronica Vale, former art gallery consultant at Gallery MAR — and current artist, author, and designer living in Winston-Salem, NC.
Beloved by our readers, collectors, and artists, this woman has been with the gallery since 2016, when we hired her… via Zoom! Shortly after our interview, she moved to Park City and spent two years with us.  While she was here in Gallery MAR, we were so very fortunate to have her on our sales team before the call of home pulled her back to North Carolina; and then, well, we couldn't quite let her go. If you have seen our Gallery MAR Vol. 1 book, she is the artist and designer behind that work, as well as many other design projects. She continues to contribute to the gallery in a multitude of artist ways, and we are always brainstorming what's next.
In the spirit of sharing more from this fabulous woman, we asked her a few questions about her eight years with Gallery MAR… and we heard from a few of our artists about their own experiences with her, to boot. We love to turn to the tables, so please enjoy this interview with our most-frequent interviewer. We will try to do her work justice!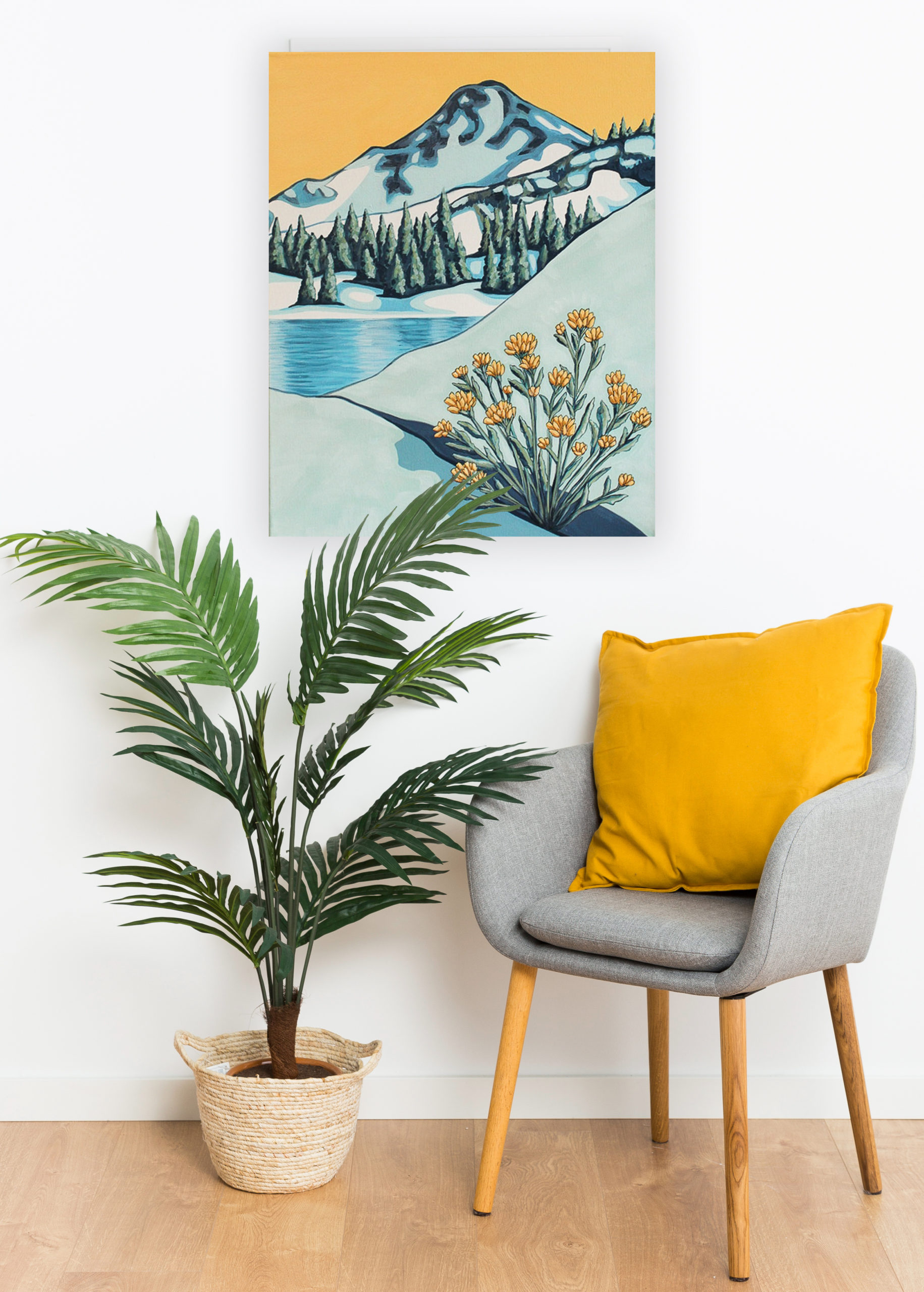 How did you get started in the art world?
I got started as an artist from as early as I can remember. Whenever I was asked "what do you want to be when you grow up," I never wavered from answering "an artist." I've been creating art my whole life, and happily, my passion and love for it only grows with time.
I got started in the art world through Gallery MAR. Fresh out of college in North Carolina, I applied for a job at Gallery MAR in Utah as a Fine Art Consultant. As a lifelong artist, but a type A personality, I was interested in finding ways to intersect my love of art with my disposition for and interest in business, so I saw (and continue to see) working at Gallery MAR as a dream job. Plus, my then-fiancé, now-husband and I had always dreamed of moving out West, and we had our hearts set on Utah.
My job as a Fine Art Consultant at Gallery MAR taught me everything I now know about the art world, and Maren quickly became the best boss and mentor I could have ever hoped for. Even now, after having moved back home to be closer with family, five years later, I still happily work for Gallery MAR and continue to implement the lessons I learned there every single day into my life as an artist, small business owner, and writer.
At what point did you know that you were an artist?
The tricky thing about calling yourself an artist, is that the title of artist is entirely self-prescribed and without strict parameters. If you want to be a doctor, you have to go to med school and walk across the stage in your white coat. If you want to be a lawyer, you have to go to law school and pass the bar. In comparison, there are no particular qualifications to calling yourself an artist. It's likely the reason that so many fellow creatives are hesitant to do so. Our own modesty and imposter syndrome has us second-guessing ourselves.
I think that we all have to decide for ourselves our definition of "artist" and have the courage to claim the title for ourselves. I suppose I could say that I felt like an official artist when I launched my art business two years ago this month, but the truth is, I have been an artist my whole life. I'm only now confident and comfortable enough to own it.
How do you balance writing about and promoting other artists, while also being an artist and creative yourself?
While my schedule gets busier with every passing month, I always manage to find time for Gallery MAR and their incredible artists (It helps that I'm obsessed with to-do lists and live religiously by my Google Calendar.) Logistics aside, promoting and writing about other artists actually feeds my own creativity and keeps me continuously inspired.
As artists, we often work in solitude. Many of the artists that I know are introverts like myself, who prefer it this way. However, sometimes it becomes challenging to work in isolation. It becomes important to surround ourselves with fellow creatives who keep us inspired and motivated. When I interview Gallery MAR artists, I always find something in our conversation to feel inspired by, whether it's a quiet chat with Sandra Pratt about the beauty of simplicity, an exciting back and forth with Kevin Kehoe or TS Harris about the courage of mid-career pivots, or an enlightening (and to be honest, awe-inspiring) conversation with an art legend like Hunt Slonem.
Gallery MAR's artists may not be aware of it, but their conversation, their work, and their lives truly inspire and uplift mine. I am honestly so grateful for these conversations and these opportunities to interact with the successful, remarkably talented artists of Gallery MAR. Not only do I feel happy to promote and uplift their work through my words, but I feel incredibly honored to do so.
What have been three of your favorite blog pieces that you have written?
This is a tough question to answer, because each blog has been delightful for me to write for a multitude of different reasons. I love the fun Photoshop work of my more visual pieces and I love working with wonderfully kind local Park City vendors, but if I have to select my favorites, I believe that my top three would all be inspiring artist interviews:
Fred Calleri and His Magical Muse

– This piece was one of the most meaningful works that I've ever written. The story of Fred Calleri and his muse, Simon, is so incredibly heartwarming, and I felt remarkably privileged to be trusted with it. Because I wanted to do justice to such a delicate subject, this piece took me longer than any other blog I have ever written. I'm proud of the way that it turned out, and I'm so grateful that Fred Calleri and his family feel the same. As a gesture of gratitude, they sent me an original painting of Simon by Fred Calleri. The piece now proudly hangs in my living room- – the first thing you see when you open the front door. Every day, it reminds me of the power of love and courage and the importance of being yourself.

Hunt Slonem: Discovering a Crystal Cave – Considering the celebrity-like status of artist Hunt Slonem, I felt a little starstruck over this interview. Having an opportunity to chat with Hunt Slonem one-on-one over Zoom — especially over an exclusive new subject to the artist — was such an exciting privilege. The art history nerd in me still rejoices at the memory.
Gallery MAR Book: Volume I – This answer is cheating a little, because it's a book, not a blog; however, creating the Gallery MAR Book was one of my most fun, challenging projects yet. Through this book, I had a chance to combine my interests in graphic design, literature, and writing into one incredible project. I'm also proud to have at least 8 of my former artist interview blogs included in the book.
Tell us about your most successful art fair!
Thank you for asking! This year, I decided to venture into the world of art fairs and have now completed my fourth art fair of the season. I have many more lined up for this summer and fall, but so far, my favorite art fair memory was the Sidewalk Art Show in Roanoke, Virginia. The people at that particular art fair seemed to truly value original fine art, and I was thrilled to sell nine original pieces.
Just when I thought that the day couldn't get any better, I heard a parade marching down the street. I was making a sale in the tent, so I didn't have a chance to pay much attention until they stopped right outside of my booth. The people in the parade called out my name and announced that I had won the Paul Ostaseski Memorial Award, a $1,000 prize. The award was presented to me by Paul Ostaseski's widow, Susan, and the Executive Director of the Taubman Museum of Art. With tears in her eyes, Susan Ostaseski told me just how thrilled she was that the Museum of Art had selected me as the recipient of the award in her husband's name on his 40th anniversary of passing. I know that I will carry the memory of such a heartwarming, encouraging moment with me throughout my career.
What are some of the challenges of working for Gallery MAR remotely, and what are some of the benefits?
The challenge of working remotely for Gallery MAR is that I don't get to see my lovely coworkers in person anymore! I miss seeing Maren and Eileen dearly, and I miss the artists of Gallery MAR.
Nevertheless, I have found working remotely to be incredibly freeing. I can work within my own schedule and within the often flexible schedule of other Gallery MAR artists. I like to interview artists while in my studio, where creativity feels abundant and the conversation seems to flow effortlessly. Then I get to transcribe my interviews on my back porch, listening to birdsong while the sun sets. When I write, I begin by recording my voice into my phone while on long walks with my dog in the morning. In that way, my Gallery MAR work settles into beautiful little spaces in my day, making up the remote writing routines that I now cherish.
Anything else you want your readers to know about you?
I hope that Gallery MAR collectors know just how much I've loved working with them over the years and what a privilege it is to have my words read and appreciated by such wonderful people. I also hope that all of my dear Gallery MAR artists know just how much their conversation and work means to me and how much they have influenced and inspired my own work.
My own landscape work presents nature as seen through the eyes of an idealist — one who finds serenity and bliss in the subtle refinement and cultivation of nature's rugged beauty. As an avid rock climber and outdoor enthusiast, I've been privileged to follow adventure to many breathtaking scenes of inspiration. I've found joy in documenting these wild scenes along the way, from my former home in the alpine mountains of Utah to my travels throughout the Western US to my current home nestled in the foothills of the Appalachian Mountains.
Using my photos and memories as reference, I translate the powerful beauty and gentle tranquility of nature into modern, stylized paintings, blending painterly techniques with elements of graphic design. Each painting then becomes a window into my mind, a postcard from an adventure gone by, and a happy, restful space for a restless mind.
If any readers are interested in learning more about me and my art, I hope they'll check out my work online, as listed below:
Website: www.veronicavale.com
Instagram: @veronica.vale.art
Facebook: @veronicavaleart
I also wanted to take a moment to express my gratitude towards Maren and her team at Gallery MAR. They have always been so kind to me and so supportive of my dreams, and it is Gallery MAR's strong values, business sense, and heart that I model my own art business off of. Thank you for the inspiration and for your endless support and encouragement!
---
We wanted to hear from a few of our artists too, and asked:
what do you enjoy about working with Veronica Vale?
From Matt Flint
It is always a treat for me to talk to Veronica about my work.
She radiates positivity and asks thoughtful questions.  Since she is an artist herself, and getting interviewed feels like a casual chat with an artist friend.
From Michael Kessler
I found Veronica to be a real pleasure to work with.
Her many insights informed excellent questions during her interviews. She was effective at distilling and reconstructing the
conversations omitting the less-important information  and highlighting the essential points.
From Shawna Moore
"Life is like a box of chocolates, you never know what you're going to get." –Forrest Gump.
And so it goes when you work with an art gallery! Over the last twenty years of serious gallery representation, I have met so many owners and art sales people. Most of them come and go, sometimes mysteriously and quickly. But occasionally you get lucky, maybe you even get the milk chocolate caramel!
My experience with Gallery MAR has been an entire box of milk chocolate caramels! Obviously my favorite in both candy and galleries. Maren and her team never disappoint and even when a sales associate moves on to explore her own creativity, we all stay connected.
Veronica was a key member of the Gallery MAR team. She is now working as her own business owner and producing lovely original  landscapes capturing the most colorful and fun parts of the places she chooses to paint. Besides watching her grow as an artist, we continue to discuss art and our experience as creative women. She helps create and produce the Gallery MAR blog!
Our discussions have ranged from how the work is made, to the activities besides my art that invigorates my life and themes for groups of works and exhibitions. She usually sends an outline and some questions to begin the discussion and gives me the opportunity to fully explain my life and art. Knowing that she is also experiencing this as an artist but with some distance from my work, ensures that she reports with a curious and clear sighted voice. Her blog posts give our collectors the back story to the Gallery MAR collection and perhaps even their most recent personal acquisition.