May 2nd, 2023
Looking back isn't something we often practice at Gallery MAR: with so much to look forward to, we prefer to always seek what is fresh and bold.
But with a fifteen year anniversary coming at the end of this month, we wanted to take a moment to reflect back on the years and share some of our favorite moments, and some collected in this blog, beginning in 2008. Enjoy the trip down memory lane (and apologies for the old and grainy photos!)
Want to help us celebrate? Join us for our MAY 26th, 2023: 15 X 15 EXHIBITION, as we celebrate fifteen years in business with an exhibition of paintings, all 15″' x 15" by our favorite artists. The opening reception event on Friday May 26th is free and open to the public, and the show will hang for three weeks. Meet several of the artists at the reception and enjoy live music and eats from Savoury Kitchen.
And now, on to the reminiscing.
Our first space was just ideal: a small enough location to get started and to take risks. After we moved our physical location, 11 years ago now, we were able to expand and add artists to our roster. We are now in the center of Main Street, the heart of Park City. We also expanded in 2019 to the lower level, where we now have our Art Lounge. I was just recently looking back at my business plan and vision for Gallery MAR, which I created in 2008. The ideas, vision, and the sentiments are still very much the same as they were then: a place to connect collectors with artists and to also support the community here in Park City. I had hoped that my mission for running a contemporary gallery would be a good fit for this market, and at 25 I had very little to risk. I'm most proud of the artists whose careers we have paunched here. We have several artists who got their starts here, and now are in museum collections and galleries across the US. The fact that they can now support themselves full-time as artists and have a diverse career in the arts is incredible and my greatest accomplishment here.
---
July 9th, 2008
We are off to a fantastic start. With five weeks and counting, Gallery MAR celebrated our Grand Opening this Independence Day weekend. Local artist demonstrators Rob Colvin and Shirley McKay shared their artistic prowess with our guests, and McKay even allowed a young fan to add her own brush stroke to a painting!
We watched the parade from inside the gallery (great view!) and gave away more popsicles than I can count. Thank you to all of the collectors and friends who visited over the weekend and entered to win the Sharon Jackman original ceramic sculptor. Lucky Parkite Martha Ellison, who told us she has never won a thing, went home with the sculpture. Congratulation, Martha!
Thank you to Greg Marshall of the Park Record and to Shawn Rossiter of 15Bytes for their coverage of our events and opening.
What has happened in my personal life since opening? Since opening the gallery I have moved six times, married the man that I moved to Park City to be with, was named Park City's Business Woman of the Year, birthed two little girls (7 and 9), ran the Historic Park City Alliance for four years, adopted a dog, started several other businesses, was one of 2021 Utah Business Magazine's 40 Under 40, and opened Gallery MAR Carmel (in 2019) with Thomas Cushman.
The most important part of my business is my artists: they are the reason why I am here today. Without them I am just a building with white walls. The second is my employees, and this is especially true for my manager Eileen. I have been fortunate to have had incredible staff over the last 15 years. Without the right team, a business cannot survive in this competitive market. Over the years, Gallery MAR has become more and more personal — and is ultimately connected with my identity as a person; it is my dream come true, and I look forward to the next 15 years.
The art market in Park City has remained consistent since our opening — though our offerings continue to change and diversify to meet their needs. Our buyers are the next generation from the collector I was working with in the beginning, and their desires are subtly different. Tastes are always changing, but quality and accolades do not — and so we do not follow trends. Park City continues to grow and expand and our market is reaching further into communities surrounding our town — as those areas get built out. Our part-time home-owner and visitor is still a very important part of our market, as are designers and commercial builders.
---
March 11th, 2018
This is the first installment of Stories from Ten Years: blogs about special paintings, collectors, and unexpected situations. We will start with 2018, the year that we opened.
Opening Day for Gallery MAR was the last Friday of May, for the gallery stroll. We had taken great labors to create our first space, in just 900 square feet at 580 Main Street, and we felt ready to honor the artwork that we were exhibiting by 20 artists.
Later that weekend, a couple stopped in who were concerned with the Fung Shui of the space. Huh?
I wasn't familiar with the tenants of this Chinese metaphysical system — that seeks to harmonize individuals with their surrounding environment. The couple reflected that I needed several things: something green in the back right-hand corner of the gallery (preferably a "money tree" — what was that?) and a crystal hanging over the entryway to being in positive energy to the space.
They were so earnest, so sweet, and family friends. I couldn't help but entertain them and purchased the crystal and plant.
I thought, "why not? What could be the harm?"
The day that followed, a new collector (let's be honest, they were all new at the time!) came into the gallery and selected the largest, most elaborate, and most expensive painting in the gallery. "Symbols: Things We Worship" by Ginger Bowen has a rich purple background and was filled with objects that we covet or collect. I was filled with gratitude.
I couldn't believe my luck! Or… was it the Fung Shui?
Either way, we still have the crystal hanging in the gallery's entryway, and a tree in the back, far corner.
---
April 30th, 2018
This is the second installment of Stories from Ten Years: blogs about special paintings, collectors, and unexpected situations.
2009 was a tough year and a triumphant one — in many ways.
HE GENEROUSLY OFFERED, "WHY DON'T I SEND YOU SOME WORK?"
I was a year into the gallery and was running a profit and had just purchased my first home in Old Town, Park City. I was diagnosed with Multiple Sclerosis and began treatment. The gallery roster was continuing to expand and for the first time I was receiving regular submissions from artist who wished to join.
An exciting project called for a large-scale commissioned piece of abstract art, and I knew just who to call: Michael Kessler. I knew Kessler's work through his gallery in Santa Fe, where I had purchased two small works for my own home a few years back. I adored his work and was hoping that he would reply to my email about a commission, thinking that this would be a one-time event. Working with an established artist like Michael Kessler was a dream at the time — I wasn't sure if he would even reply!
I got a friendly and accommodating email back and we worked to put together a proposal for the collector. The project did not come to anything, but the relationship did and we have been showing Kessler's work since then. He generously offered, "why don't I send you some work?" Little did he know how treasured and impactful that one line would be — for both of us — for many years to come.
Since 2009, we have sold too many of his gorgeous paintings to count, and I have added another piece to my own collection as well. I love learning from this artist and working together to try out new ideas.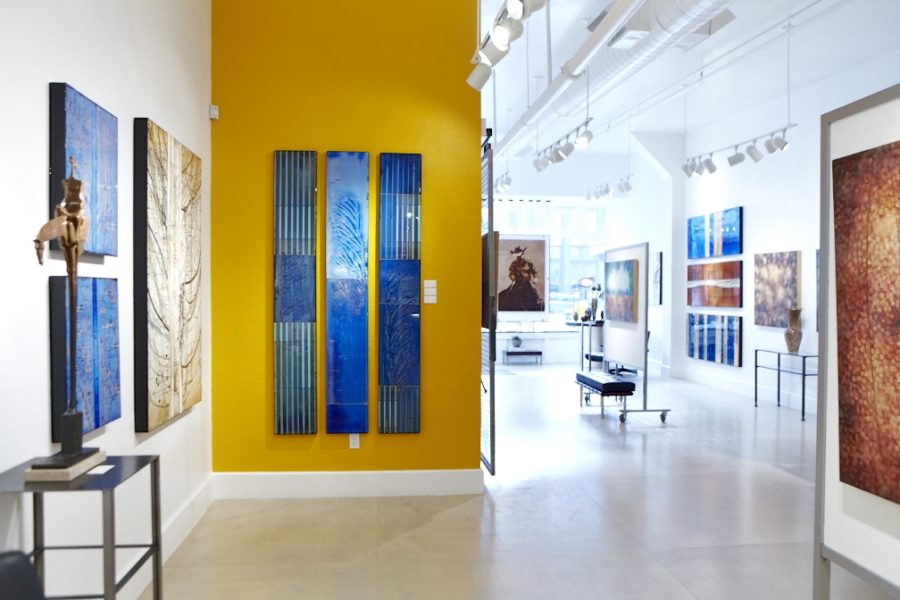 ---
April 21st, 2018
Thank you to the Park Record for this lovely coverage on our ten year celebration.
Gallery MAR, 436 Main St., is celebrating its 10th anniversary. For information, visit http://blog.gallerymar.com.
Gallery MAR is celebrating its 10th anniversary and owner Maren Mullin wants everyone to join the party.
That's why she has asked videographer Claire Wiley, of Eclectic Brew Productions, to create a series of short videos that spotlight the 32 artists the gallery represents, as well as document some of the events hosted by the gallery.
Wiley will make a new video each month throughout the year.
"You can talk about art all day long, but the best way to experience it is to see it," Mullin said. "I wanted people to see and hear from my artists directly, and I also wanted an online video catalog so people who are new to the gallery can learn about us and experience what it's like to be part of the Gallery MAR family."
"You can talk about art all day long, but the best way to experience it is to see it…" Maren Mullin, Gallery MAR owner
Mullin's decision to work with Wiley on the videos was simple because the two are great friends.
"She also knows a lot of my artists," Mullin said. "So she had an idea of what to expect when she made the videos."
Wiley said each video will tell a story that is highlighted by interviews and behind-the-scenes footage.
"While you can have all kinds of beautiful imagery, we like to put the soul into the videos, and in this case, the soul is the people; the artists," Wiley explained. "Many people may not have the opportunity to attend Gallery MAR artist receptions, and these videos give them a space where they can learn more about the people behind the art."
Mullin and Wiley discussed the monthly topics, which include an art installation at the One Empire Pass residences and the history of Gallery MAR.
"Of course, most of the others videos will focus on each of my artists," Mullin said.
Throughout the past 10 years, the gallery owner has cultivated strong relationships with the artists she represents and her employees.
"Many of the artists from the very beginning are still with us," she said. "When I started, I represented 15 artists. Now there are 32, and out of them, seven have been with me from the beginning."
Mullin is always excited to introduce artists to the gallery and her collectors.
"We also have the honor of launching several young artists' careers out of the gallery, which I'm really proud of," she said.
One of those artists is encaustic painter Bridgette Meinhold who has been represented by Mullin for eight years. (See accompanying story).
The gallery owner said relies on her intuition when selecting a new artist.
"There is a catalog of ideas that will go into these decisions, and the way I pick my artists is, I think, very much the same way my collectors pick their art," she said. "Sometimes you just know, but the art has to speak to you. It has to move you."
Mullin has also learned a few things in the past 10 years.
"There have been times when I've made a guess on an artist or particular pieces that haven't resonated well," she said. "I have made some mistakes, but there has always been a great lesson in that."
When Mullin looks for new artists, she seeks out pieces that are unique to Gallery MAR and unique to Park City.
"I also have to make sure the work plays well with my other artists' works," she said. "Many people come and select many pieces for their homes, and while we don't want things to be too identical, we want the aesthetic to flow from piece to piece."
Another rewarding aspect of owning an art gallery is the relationships that are forged with clients, according to Mullin.
"You see your favorite people come back year after year and you get to watch their kids grow," she said. "And some of these kids become art collectors themselves."
Mullin also enjoys the sense of ownership her clients create with her artists.
"When someone falls in love with a work of art, you get to see it in their face and their home," she said. "I hear stories of how the art affects them on a day to day basis, and many of these people come in to the gallery to see what 'their' artists are doing."
The goal for Gallery MAR hasn't changed over the past decade, Mullin said.
"It's always been that magical point where you get to surround someone with very beautiful things," she said. "As someone's aesthetic aligns with my own vision of the gallery, I know the new artists we bring in will be ones they want to follow themselves."
Mullin credits her husband, Matt, for encouraging her to open Gallery MAR in 2008.
"He's the one who told me I should just do this, and I don't think I would have been able to do this without his support," she said. "He's not an employee of the gallery, but whenever we have something super heavy to lift or if I need someone to sit at the gallery when I need to do something, he'll help out."
---
July 17th, 2020
By Veronica Vale
When Maren Mullin and Thomas Cushman opened Gallery MAR Carmel last July, nobody could have anticipated what a whirlwind of a year it was to be. Mullin, who first opened Gallery MAR Park City twelve years ago during the 2008 economic recession, is no stranger to adversity, however. So despite the challenges of this past year, Cushman and Mullin remain strong and resolute in their optimism for what the future of these two Gallery MAR galleries will hold. Above all, they are grateful — grateful to their staff, their artists, their collectors, and everyone in between who helped shape Gallery MAR Park City and Carmel into the fresh, bold galleries they are today.
In honor of Gallery MAR Park City's twelfth anniversary and Gallery MAR Carmel's first anniversary, we spoke with Gallery MAR owner, Maren Mullin, and Gallery MAR Carmel co-owner, Thomas Cushman, reflecting on their galleries' past, present, and dreams for the future.
What are some of the ways that Gallery MAR Park City has evolved over these last 12 years that you're the most proud of?
Maren Mullin: Although we will always carry a few very special emerging artists, we now have the delight of representing nationally recognized artists who are in museums all over the country. That's a big change from where we were in 2009 when I humbly asked a selection of artists to send their work to a brand-new gallery. Many of those first artists have grown up with us — and are now nationally renowned. We have collectors who continue to come back to the gallery year after year and remember my staff as friends and trusted guides — that is the best compliment that we can receive. After twelve years, I have also personally come into my own as a business owner and artist representative: authenticity and connection is more important to me than ever.
What has been the greatest joy of owning Gallery MAR? What has been the greatest challenge?
Maren Mullin: The greatest joy is the people! Don't get me wrong, I adore artwork and connecting collectors with fine art, but my employees and artists are my greatest joy and most rewarding aspect of owning the gallery. I feel so privileged that I am able to employ nearly 40 people as a result of this business and the talents of our artists. Over the years we have made our share of mistakes and have had challenges (shipping damages — grr!) but we always take the opportunity to learn from our errors and grow. And some of our most challenging situations have resulted in our most loyal collectors.
"AUTHENTICITY AND CONNECTION ARE MORE IMPORTANT TO ME THAN EVER."   

– MAREN MULLIN
Thomas Cushman: What an amazing year it has been. The challenges of finding a great location in Carmel-by-the-Sea and  getting business license approval  from the city were formidable. Then to face the Covid Pandemic and forced closure for almost three months of our first year — who could have predicted such a thing? Maren and I assumed there would be some economic upheaval within the first couple of years of being open in Carmel; the economy had been on such a smooth upward climb for so many years, we knew there had to be a correction coming. But a pandemic shutdown?  Nope, didn't see that on the horizon.
Nevertheless, we have made it through so far in very good shape. The support of our artists with their patience and enthusiasm have been crucial to moving forward. Now we seem once again ready to launch, or maybe better said, ready to re-launch!
What do you look forward to the most in the coming years?
Maren Mullin: The unending presentation of fresh and beautiful artwork: there are so many more incredible works to come! We have a few corporate collections that we are just now curating, and I look forward to seeing those installed. Artwork in a setting such as an office environment or a residential building has the ability to bring joy to so many more lives, just by virtue of visitation.
Thomas Cushman: I will definitely carry forward some of the lessons learned during the shutdown; specifically discovering the virtual venues for promoting our artists and educating our clients through studio tours, artwork demonstrations and video blogs. I also look forward to meeting more clients and discovering their artistic interests and passions.  I have two favorite parts of my job; the first is talking to clients about the artwork and artists in the gallery. The second is planning out how all of the art works together in the gallery so that people can walk in and feel something like, 'wow, I want to live in this world.'
"I'M LOOKING FORWARD TO CONTINUING TO ELEVATE THIS GALLERY INTO AN EVEN MORE BEAUTIFUL SPACE OF COMPLEX, EVOCATIVE ARTWORK."   

– THOMAS CUSHMAN
On Gallery MAR Park City's twelfth anniversary and Gallery MAR Carmel-by-the-Sea's first anniversary, what message would you like to send to your collectors and your artists?
Maren Mullin: A fresh and bold THANK YOU to… my staff and our artists and collectors, our UPS man and our craters, our (very careful!) cleaners, our local coffee shops and small businesses that keep us refreshed, our neighborhood restaurants that activate Main Street and bring us new collectors, all of the wonderful writers who continue to find the Arts an important topic… THANK YOU!
Thomas Cushman: So as we move into our second year here in Carmel that is what I'm looking forward to: strengthening our virtual presence, spending even more time representing our artists to our clients, and continuing to elevate this gallery into an even more beautiful space of complex, evocative artwork.