April 3rd, 2023
What an honor to have the distinguished artist Michael Kessler here at the gallery for a week of illuminating demonstrations and discussions with the artist. In the past, we have facilitated immersive collectors experiences that have included studio visits as well as snowshoeing, glass blowing and ax throwing seasons with artists. All with the goal of further connecting our collectors with our artists. One of the most important parts of being a gallery owner is to help strengthen the connection between our artists and the public. The events we have done so far were all by invitation only, so this week we wanted to find a way to open things up to those who aren't collectors yet.
Guests joined us in the gallery for two days of artist demonstrations with Kessler, who generously shared his techniques and secrets — layering papers and watercolor sketches with acrylic media and paint. We are so grateful to the artist for his time and attention to our guests, who were hungry to learn more and watch him paint. It was mesmerizing to see the paint dance between the tightly-pulled canvas and Kessler's various tools, as he pushed and pulled the acrylic pain across his surfaces. Each piece has its own magical recipe of layering: mixing a little chaos and accidental poetry with crisp lines and contrasts.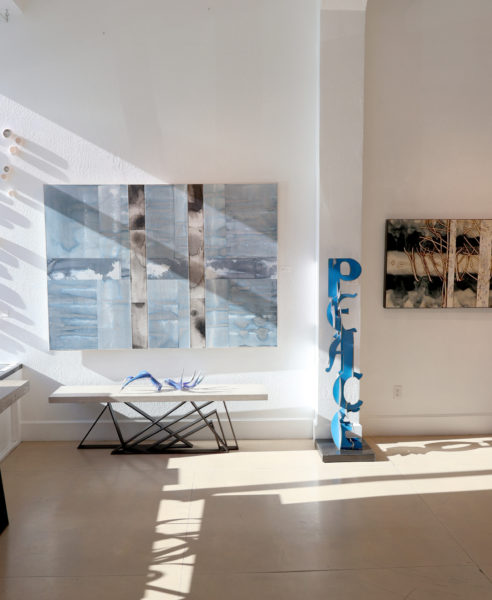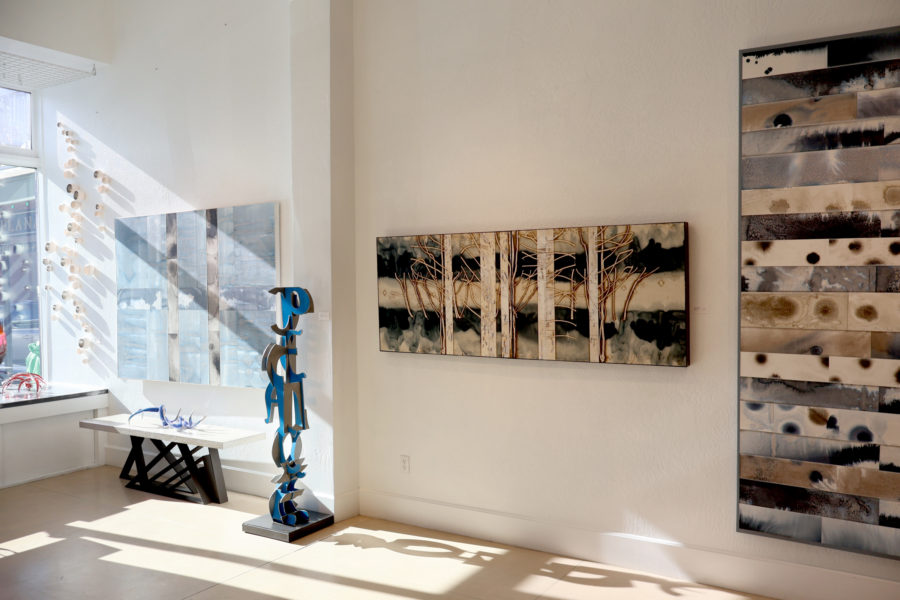 Midweek, we welcomed a group of Michael Kessler's collectors for an evening in the gallery, and private dinner. This offered both the artist and our friends to have in depth conversations together, to laugh and learn more about each other and topics ranged from Chat GPT4 to museum acquisitions and the life of an artist. Kessler, an avid fisherman, very generously told us of his favorite fishing spots in our area and how he learns to line up the best lures. And on the menu? Tout, of course!