March 30th, 2023
Yesterday a New York Times article, written by the brilliant (our words) Vanessa Friedman, came to our attention. The focus: what Oscar-winning actress Gwyneth Paltrow is wearing at her Park City ski accident trial, and what her costuming says about her. Owner Maren Mullin was quoted on her opinion of the looks that Gwyneth Paltrow is serving, in Paltrow's much-watched ski accident trial. One such quote related to Park City locals, and the idea that what the fashion-forward Paltrow is wearing is very much like what you might see right here on Main Street — and also on how challenging it must be to tow the line between dressing up and dressing down.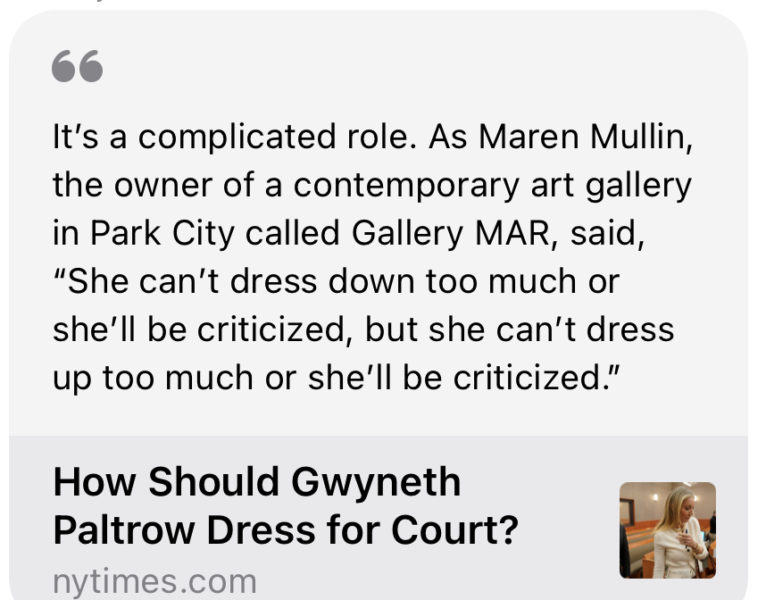 Lucky us — we happen to have several locally-owned and female-run clothing boutiques on Main Street, so we reached out to one of them to re-create the talked-about looks we are seeing on Paltrow at the trial. Enter Blaire Isleib and Kristen Doyon of Flight Boutique. They pulled together a court-approved collection of outfits, perfect for any important appearance televised to millions… or just a day walking and shopping fine art on Main Street.
Below, enjoy a few of the outfits we have seen on Paltrow, here re-styled and re-imagined by Flight Boutique, and of course the information (and affordable pricing!) on where you can get the looks too. See if you can recognize the court looks we are re-interpreting, all in front of Gallery MAR artwork favorites.
Read on to discover how you too can create your own Paltrow-inspired looks!
---
At the time of writing this blog, the jury is still out on the court's ski trial decision. But one thing is for sure: supporting women-owned businesses and being creative (and having a little fun while doing it) is always the right decision for those of us at Gallery MAR.