April 22nd, 2022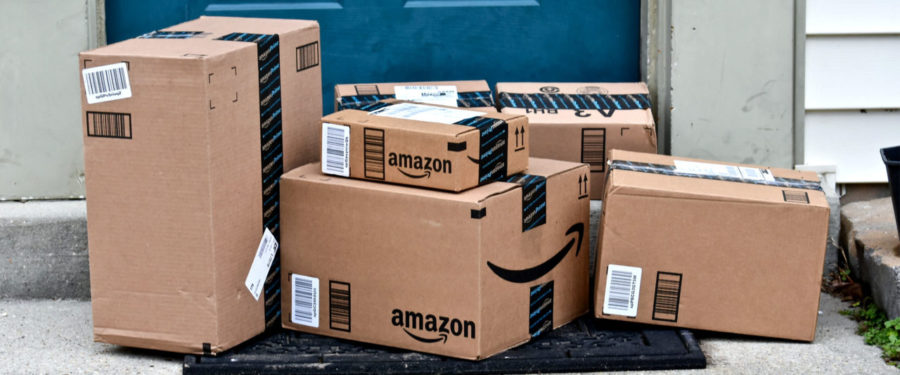 Does your doorstep look like this?
I get it: one-click buying is so easy. Maren here. As a mom of two with two galleries and the commitments they entail, I love an easy and fast way to buy from the comfort of home. Two years ago, when the pandemic hit and we were all stuck at home, I wrote a blog highlighting local businesses and ways to support them. Now that pandemic life has shifted and we are out and about more, I wanted to post an update with new ideas and ways to support local. Read on!
Before you click that Prime button, ask yourself: can I buy this item in my own little town? Who can I call to find out? Can I buy something similar here in town (even if it's not my most favorite brand)? My little girl needs leggings, who has this locally? Does my hairdresser sell shampoo? Can I buy menswear locally?
Keeping our sales (and sales tax) dollars in Summit County has never been more important. The dollars that you spend in your own area compound and assist other local businesses on a greater scale than those spent at larger, chain stores. Because an average two-thirds of every dollar ($0.67) spent at small businesses in the US stays in the local community, consumers' local impact is always going to be significant. Further, every dollar spent at small businesses creates an additional 50 cents in local business activity as a result of employee spending and businesses purchasing local goods and services, according to the Small Business Economic Impact Study from American Express (NYSE: AXP).
So where can you turn for things you need at home (and treats and gifts you "need" too!)?
Here is a list of some of our local favorites to shop for first… before you click that Prime Buy Now button!
SUNDRIES
While Walgreens and Wall-mart are both local here in Summit County, why not try outside of the big-box for these purchases? Salt Box Park City has all of your necessities: dog treats and mustards, TP and tampons, CBD salts, alcohol mixers and Advil (see what we did there?), and groceries — even yeast too (just ask). Park City Mercantile has toothpaste, fragrance, beard oil(!), razors, and deodorant, along with puzzles and games, cook books, and home goods like candles and cleaning supplies. The owner has a stylish eye and would be happy to add a hand-beaded pair of earrings to your sale, too. Both stores are owned by locals with young families and deep roots in Park City. Wine is always a necessity (at least, in my own home) and locally-owned Old Town Cellars is open daily for purchases and your tastings pick-up. The two gentleman who own the Cellars are committed to local non-profits and are giving back with each bottle sale. Buy wine, drink wine, feel good!
GIFTS
It's Mother's Day in a few weeks, right? And now that those drive-by birthday parties are a thing of the past — it is time to step up your gifting game. So pick something out locally and send it to them. Hint! All of these businesses will wrap and ship the gift for you — many times, with same-day delivery. Beat that, Bezos! I just bought my own mom a hand-made bauble at Ron Butkovich's jewelry store. Ron will text photos and ideas in any price point, and wraps each piece with creative gusto! Many options are under $50 too. While we are on jewelry, I cannot miss our dear friends at Park City Jewelers, who are open daily through the off season. Many of their items are made in-house by the two generations that run the store. Of course, here at Gallery MAR we are staffed daily and we can also wrap and deliver fine art same-day, and have a variety of price points beginning at $325.
A few other favorite gift stores and their offerings:
Splendor Park City:  Hand-embroidered hats, accessory gifts, bubble bath, candles, eye cream, all the make-up, and jewelry. Many kid-friendly items here too like bath bombs (it's not-so-secretly my daughters' favorite shop in town!). They are carrying locally curated brands as well as Mother's Day boxes to-go, available on their website. As owner Delilah says, "Our nationwide small business fellowship is the backbone of America and when the dust has settled, we will be here to continue to hold up our communities."
Cake and C2: Delicious lotions and potions, lounge-wear, and jewelry, and hair-care (root touch-up anyone?). Beautifully curated, the owner has an expert eye, and a young family here in town. They are offering specially-discounted Cake Boxes of her favorites, delivered each week. Even bathing suits for your stay-at-home hottub soak! Ask any lady in town, a gift from Cake is better than any other sweet treat.
Flight Boutique: Ask them about their in-home try-on VIP boxes or visit their ever-expanding shop on Main. Flight has new custom boxes for self-care and gifting. And they are always doing some kind of shopping deal or insight through Instagram and will wrap and ship a gift to your friend, or a gift card which your bestie can use to shop online. The two ladies who own this store are angels, and continually give back to our community.
Panache Park City: This fabulous store just went online! Welcome them to the 21st Century by purchasing a pair of Uber-chic tennis shoes or the Herno coat you have been eyeing through their windows. They have beautiful accessories and jewelry by local and personal favorite Meredith Young. And the softest cashmere.
Mary Jane's: Buy a gift card for your niece! I love that this store has the bare necessities: underwear, socks and tights, of course shoes and boots, and even pasties. They are usually running a sale in store (hint: head to the back!) — and people can easily shop online, too. Check out their Instagram to see their latest styles and shoes, and daily manager's deals.
KIDS
Baby NeeNee and Minnows (now well-established at Redstone!): Kids' underwear! Tell me you don't need that. And jammies, toys, bibs, and other tots' essentials. Both have seasonal as well as season-less options and toys galore. I can't actually take my girls in these stores without a serious case of the "I wants" happening. It's an easy equation: buy for your kids locally = help other working families in your town.
Dolly's Bookstore: Need a read for you or the family? Order a real book instead of the e-version and support a local business that has been around for decades. Enjoy the feel (and smell!) of a real book in your hands. They also are a great resource for kid's gifts: call them and tell them the age of the child and they can put together options for your favorite kiddo. Puzzles, games, cards, gifts, and more. Personally, our most-cherished presents are books from loved-ones, with hand-written notes from the giver on the first page. Do you need craft supplies for your at-home activities? Yep, they have those too.
MEN
We can't forget the guys in our life! Before you buy from the big-boys like Old Navy or Nordstrom, try local. Take a few extra moments and get creative about how your can find what you need. PROSPECT has a great selection of men's summer-wear and gear for warming weather and even beach-dreaming too. Owner Casey always curates the best, and best value, goods for the guys. And also on Main is Grace Clothiers, owned by local Laura who would be happy to put together a curated texted images of menswear for a more polished, dapper look. Of course, both stores also have women's wear, so ask for a few suggestions for yourself too.
FOOD
Restaurant gift certificates and to-go orders abound here in Park City. Savoury Kitchen has been our go-to caterer at Gallery MAR for over a decade and they are delivering freshly prepared meals (beef tenderloin and kale salad with a side of potatoes gratin), and even meal kits (homemade pizza is always a good idea!).
Mountain Olive Oil: Is your giftee a foodie? This store is here for you. The owner Jessica goes above and beyond to prepare gifts shipped within a week, packed with food and delicious oils. Need a mortar and pestle? She's got that. Specialty spice out at the grocery store? She's got that too. Need inspiration? Dishing Magazine has compiled a list of recipes made with the products found at this store.
A few other ways to support your local businesses
Want to do more than spend dollars?
Give them a Yelp or Google review — follow them on Instagram — re-post their posts — tell others when you shop local and spread the good news — and buy a gift-card for you or a friend!
The Historic Park City Alliance's webpage has updates on all business hours and which restaurants are open during this season. And if you want to learn more about dining in Park City, as well as the Savor the Summit event and special pop-up dining experiences, you can see more on the Park City Restaurant Association's website.
Do you have a buying local success story? I'd love to hear it — drop us a line at info@gallerymar.com and share… and keep shopping local.