February 12th, 2022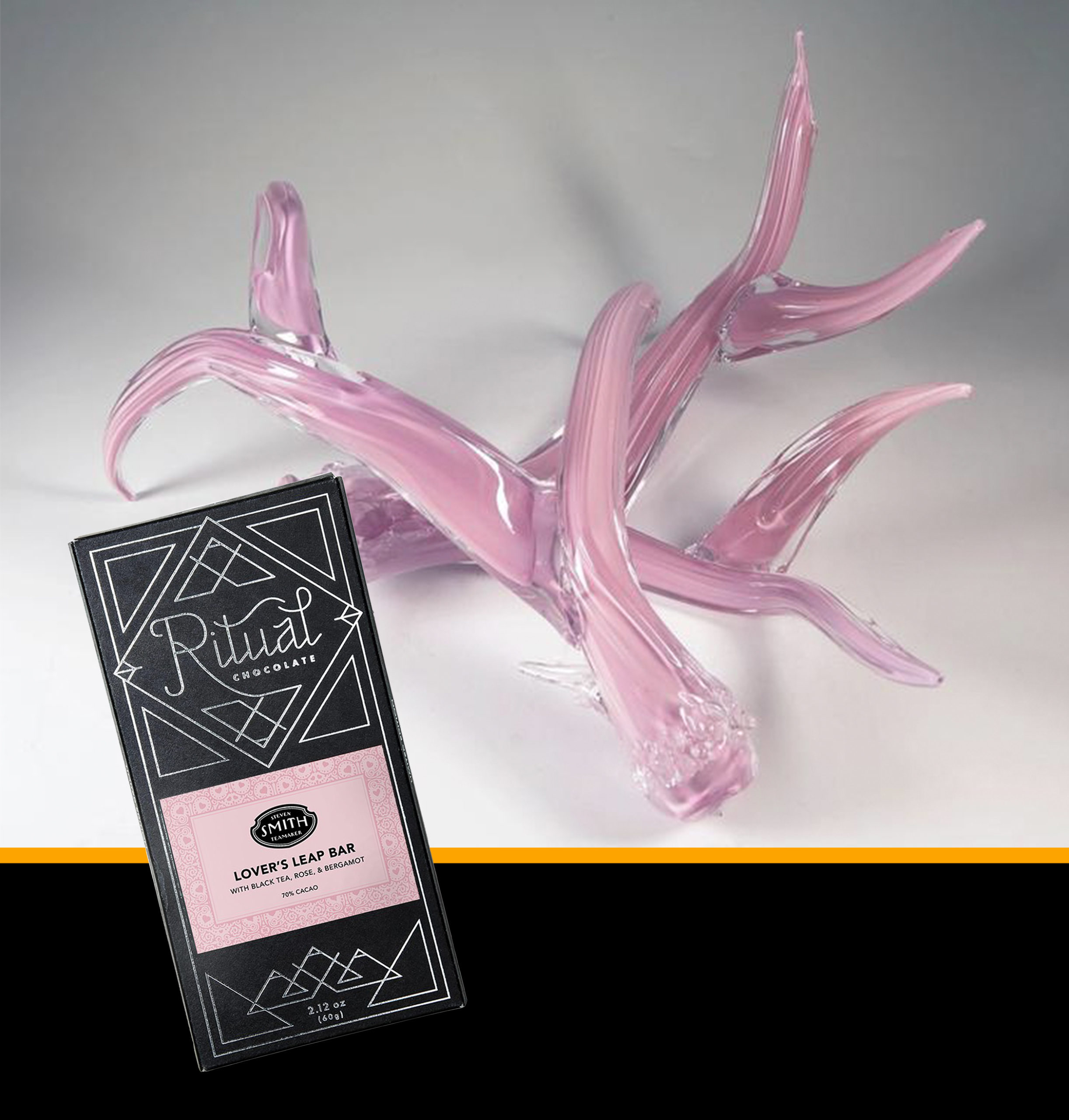 "Art, Love and Chocolate? Is there a difference?" – Ritual Chocolate co-founder Robbie Stout
This Valentine's Day, we've teamed up with local chocolate makers, Ritual Chocolate, to create a Valentine's Day gift guide for you, pairing new and classic Ritual Chocolate Bars with original Gallery MAR artwork.
"We believe that art, love and chocolate are all part of the same family of things in this world that should be sought. Each on their own conjures meaning, happiness and intrigue—and all together? Euphoria. 
To appreciate a piece of art can sometimes take focus and patience—it's unlikely that a piece will really speak to you at a glance while checking a notification on your phone—and the same is true for chocolate. To really understand the depth of flavors in our chocolate, it takes focus to pick up on the subtle tasting notes and it takes patience to let the chocolate melt and for the flavors to blossom.
For this Valentine's day, we hope that you taste a piece of chocolate and find a piece of art that speaks to you in the language of love. Take your time while tasting and gazing at the beautiful work at Gallery MAR. Like love, you might not see it at first, but if you give it enough time, you might find something (or someone) you can't live without."
-Robbie Stout
We couldn't have said it better ourselves! So, whether you're looking for the perfect gift for your love or looking to treat yourself this Valentine's Day, find euphoria in Ritual Chocolate and Gallery MAR art.
---
Lover's Leap Bar |

Jared Davis
Ritual Chocolate's Lover's Leap Bar: This bar is a collaboration between Ritual Chocolate and Smith Teamaker and will make for a perfect valentine treat. It is a marriage of our 70% dark Madagascar and Peru chocolate with Lover's Leap black tea blend from Smith Teamaker. Featuring high-grown black teas, pink rose petals, chamomile petals, and subtle citrus flavor. One bite and you are sure to fall head over heels.
Gallery MAR's Jared Davis: Jared Davis' glass antlers reflect the light like jewels. We've seen Davis' glass antlers displayed in a many dazzling colors, from amethyst to aquamarine, but never before have we seen them in this stunning rose pink hue. This rosy color beautifully complements the pink rose petal flavor of Ritual Chocolate's limited edition Lover's Leap Bar, and both arrive just in time for a Valentine's Day surprise.
---
S'Mores Bar |

Maura Allen
Ritual Chocolate's S'mores Bar: Made with caramelized sugar to give a toasty, fresh off the campfire marshmallow taste, with graham crackers sprinkled on the top. This is a great bar to bring on your adventure, when you don't have room for all the s'mores components but still want to enjoy those classic graham cracker, chocolate, and marshmallow flavors.
Tasting Notes: Graham Cracker, Caramelized Sugar
Gallery MAR's Maura Allen: Maura Allen's Western work conjures up images of rodeos and wild frontiers. Her earthy colors and high contrast tones give imbue her work with a sense of warmth and adventure. As we gaze into Allen's mixed media work, "Sombrero," we imagine a world in which we gather around the campfire after a long day on the ranch. What better world to pair with a Ritual Chocolate S'mores Bar?
---
Honeycomb Toffee Bar |

Nina Tichava
Ritual Chocolate's Honeycomb Toffee Bar: Made with our Belize 75% chocolate and topped with house-made honeycomb toffee. Utah is also known as The Beehive State, so we couldn't resist making a chocolate bar that represents our state. For our toffee we use Utah-local Hollow Tree Honey, which is carefully sourced raw, wildflower honey from hives across the Wasatch Mountain range. This honey is full of floral, nectar flavors that are unique to the array of wildflowers growing in our area.
Tasting Notes: Honeycomb, Dark Chocolate
Gallery MAR's Nina Tichava: Ritual Chocolate's Honeycomb Toffee Bar conjures up images of bumblebees and wildflowers. This natural, floral flavor beautifully complements the botanical-inspired work of Nina Tichava. In this aptly titled piece, "I Will Bring You Flowers From the Mountains," bright honey-yellow shines through the botanical, floral forms in the foreground. Her bright, yet soothing works seem to sing of harmony, and her honey-sweet titles only add to the feeling of romance.
---
Juniper Lavender Bar |

Hunt Slonem
Ritual Chocolate's Juniper Lavender: Inspired by the mountains and growers around us, this bar is a blend of lavender grown by Lavender Hill Farms in Eden, Utah and dried juniper berries. Both ingredients are finely ground into our Mid Mountain Blend giving a floral, aromatic finish that lingers on the tongue and conjures up the scent of a high mountain meadow.
Tasting Notes: Lavender, Juniper, Pine, Citrus, Floral
Gallery MAR's Hunt Slonem: Ritual Chocolate's Juniper Lavender Bar captures the aroma of a mountain meadow – the perfect mental space from which to enjoy the beautiful, whimsical worlds of Hunt Slonem. In this piece, "Silver Ascension Castle Day," Slonem's butterfly motif washes us in a sense of peace and transports us to our favorite gentle, quiet place in nature. Between the colorful world of Hunt Slonem and the juniper and lavender flavors of this Ritual Chocolate bar, you'll be sure to find serenity in this pairing. 
---
Pine Nut Bar |

Fred Calleri
Ritual Chocolate's Pine Nut Bar: Inspired by the mountains and local flavors surrounding us, we have added ground pine nuts to our dark chocolate blend to create a soft, smooth and deliciously nutty bar. Pine nuts are the seeds of Pinyon Pine trees which are native to Utah and grow in the pinyon-juniper woodlands in the picturesque rocky slopes and mesas of the Great Basin. Pine nuts are a true taste of our high, west locale.
Tasting Notes: Nutty, Pine-y, Earthy
Gallery MAR's Fred Calleri: Allow yourself to fall into the beautifully vintage, whimsical worlds of Fred Calleri's paintings and find joy and beauty in every detail. In this piece, "Gumption," we feel high atop the mountain, with the scent of pine all around. Take in the picturesque view of the high west while enjoying the earthy pine nut-infused flavors of this Ritual Chocolate Pine Nut Bar.
---
Après Bar |

Michael Kessler
Ritual Chocolate's Après Bar: This bar is the perfect celebratory treat—the tasting notes of sparkling white wine infused cacao complement the sweet tartness of the raspberries. Whether you're celebrating the end of a day on the ski hill, toasting a birthday, or cheering at midnight on New Year's Eve, this bar is sure to bring you cheer & chocolate. This bar is best paired with a long day in the mountains.
Gallery MAR's Michael Kessler: Ritual Chocolate's Après Bar, with its sparkling white wine and dried raspberries flavors, feels like a celebratory treat. The sophisticated flavor profile pairs beautifully with the rosy hues and grand sophistication of Michael Kessler's work, "Turned (M-1)." This pairing feels itself like a pop of Valentine's Day champagne.
---
Bourbon Barrel Aged Bar |

Stefan Heyer
Ritual Chocolate's Bourbon Barrel Aged Bar: This chocolate is made with a blend of our cacao nibs that are aged in High West Distillery bourbon whiskey barrels for several months. This process provides subtle notes of the charred, white American Oak and light hints of bourbon whiskey. We found that aging the nibs in a fresh whiskey barrel has an interesting effect on the final flavor of the chocolate. What really stands out is the "mellowing" effect of the oak whiskey barrel. The chocolate tastes a bit "softer around the edges" and has a pleasant aroma and aftertaste. 
Tasting Notes: Honey Nougat, Oak, Whiskey 
Gallery MAR's Stefan Heyer: This Ritual Chocolate Bourbon Barrel Aged Bar blends the fresh flavor of honey with the aged flavors of oak and whiskey. Stephan Heyer's work similarly blends the new with the old, creating worlds of modern abstraction using  "fragments from the past and present floating, like ghosts and echoes from another time and dimension." Together, this pair feels, all at once, peaceful and calming, yet bold and captivating.
---
Which of these pairings would be perfect for your love this Valentine's Day? Find all Ritual Chocolate bars on their website here and all original fine art at Gallery MAR. From all of us here, we wish you and your loved ones a beautiful (and yummy!) Valentine's Day.
Written by Veronica Vale and Robbie Stout