January 27th, 2022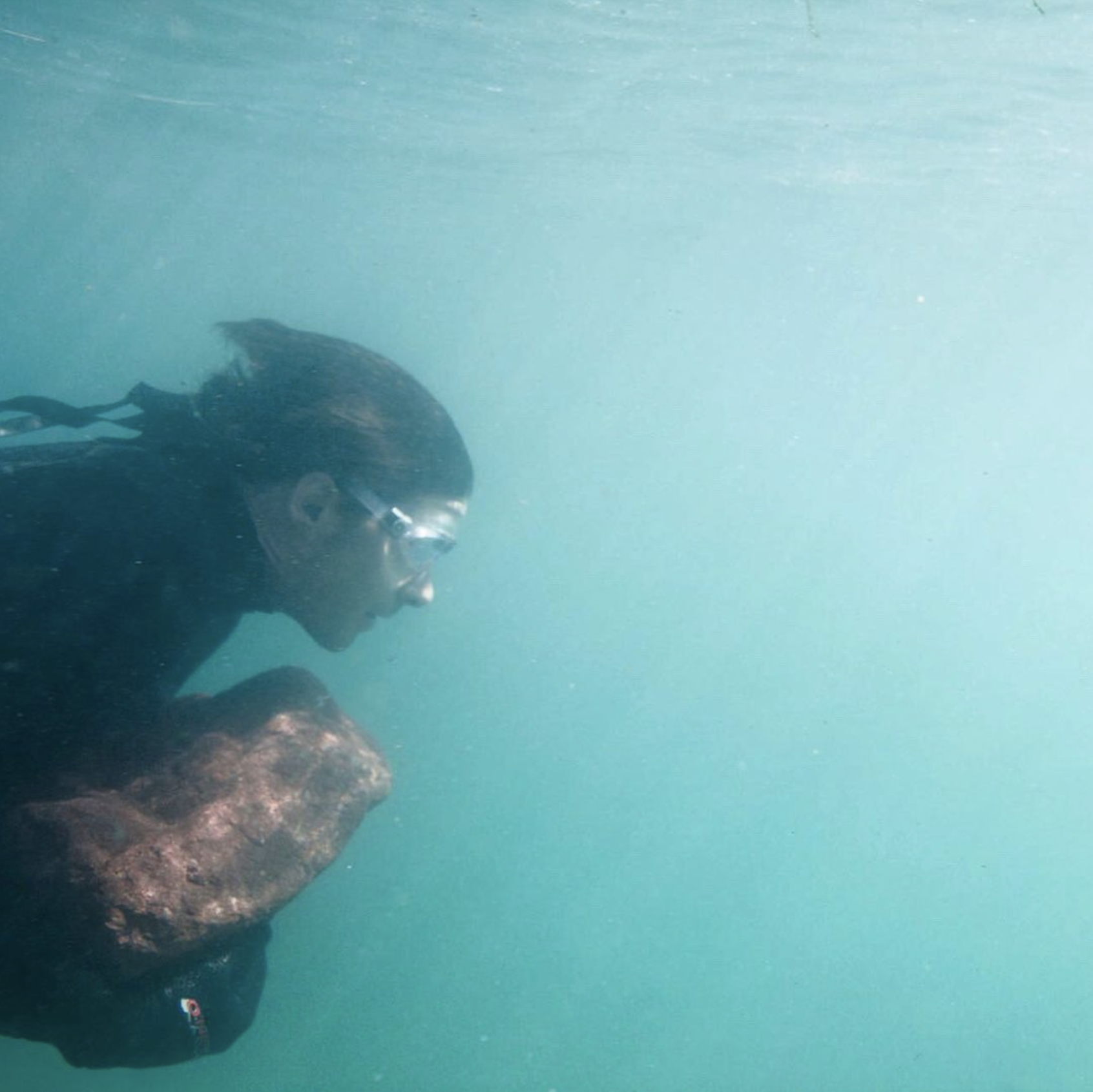 When we look back on our favorite memories of adventure – when life felt its fullest and its most vivid — our minds preserve these memories like dreams, alternating between details of clear lucidity and details shrouded in obscurity. Some moments are etched into our brains in full detail, wherein time seems to expand into infinity, while other moments seem to blink by in a blur, contracting time and leaving only traces of color and feeling before we're able to perfectly preserve their detail.
This phenomenon of time, memory, and adventure is what inspires the work of Santa Barbara artist R. Nelson Parrish. In his work, streaks of vivid, luminous color, changing and refracting in the light, are preserved and sealed in translucent layers of resin. The imperfections of reclaimed wood are polished and made beautiful through careful curation and attention. His craft epitomizes the work of our minds as we preserve our memories in time, sealing them and rendering them smooth and polished through mindful remembrance. 
These colorful, dynamic traces of the adventures and memories that inspired them become powerful reminders of the fluidity and complexity of time and of the moments that mean the most to us. "They are these moments that help define who we are," Parrish explains, "For me and for my audience, it's about connecting into those boundless moments."
Parrish's work aims to communicate what he feels language has fallen short of doing: sharing and explaining these boundless moments. For Parrish "Often those moments early on were adrenaline-driven moments, fueled by the freedom found in working in concert with the landscape at high speeds." These are the moments in which he feels most alive, from the intensity of ski racing at optimum speeds to the vulnerability of open ocean swimming. In these high octane moments, Parrish truly pushes the boundaries of his mind, his body, his spirit, and in turn, his art.
In our latest addition of our blog series "Art Adventures," R. Nelson Parrish shares with us a few of these moments — his most inspiring adventures — and the artworks that came of them.
---
SKIING
Growing up in Fairbanks, Alaska, Parrish was fascinated by the unique light of The Last Frontier and the way it changed the colors of the landscape. "It's the best place in the world to study color," he says. It was here that he first began to tap into his creative resources, trying to explain the phenomena of light, of color, and of speed through his work. "For me, good art always contained awe," he explains, "As did the vastness of the landscape, particularly of the raw landscape of my Alaskan roots. John Muir once wrote, 'you should never go to Alaska as a young man, because you'll never be satisfied with any other place as long as you live.' In a lot of ways, for me, that still rings true… Not to say that the world is boring, it just isn't as seductively foreboding as Alaska, which is why I am actively engaging in activities that thrust me into landscapes of consequence.  For it is in the wilderness, where the potential of mortal danger lurks in the subconscious, when we really get to feel our most alive."
While living in Alaska, Parrish became an elite ski racer, where the light and color of the landscape unveiled new meanings. Most Park City locals and visitors are familiar with the thrill of skiing down powdery slopes, tearing through the chill of a wintry day, with the sharp wind and the mist of white powder clouding your skis. In these moments, the landscape rushes by in a blur of evergreen trees, bluebird sky, and white, powdery snow, reflecting the light and refracting it into a million colors and textures.
This sensation of color and light at high speed is what first inspired R. Nelson Parrish's work. "When ski racing, time does odd things — some theorists call it the "flow state," other people call it "in the zone." The art world calls it "the art moment." It is that je ne sais quoi. You can't quite describe it. That has always been a frustration with me in being able to express that, and from that frustration, that's how you get all my work."
---
SURFING
Nelson Parrish has always been one to push his boundaries, making an early habit of stepping outside of his comfort zone. Having excelled in the ski arena, Parrish wanted to continue to push himself, so he considered what might be the opposite of skiing in Alaska. Naturally, this prompted his decision to pick up his life and move across the globe to try out surfing in Australia.
Moving to Australia in the late nineties stemmed from Parrish's "intense curiosity of what's out there." There he delved into the world of surfing, one that he found felt strangely like home. Parrish felt an immediate kinship to the surfing community, which reminded him of his own skiing community. He now continues to pursue his love of surfing and his connection with the surfing community in his current home in sunny Santa Barbara. 
Riding through these worlds of color and light on resin boards, we can begin to understand how the work of R. Nelson Parrish today began to take shape. Surfing gave him a similar thrill and delight to ski racing, experiencing the landscaping in motion at high speeds. This time, however, the colors of the landscape whizzing by were of a different nature, a vivid palette of luminous shades of green and blue, colors we now love to see shine through his work. 
---
MISOGI
In Santa Barbara, Parrish met several kindred spirits — people who had the same drive in them to push past their limits and experience all that life had to offer them. He and his band of brothers, from Harvard-trained sports scientist Marcus Elliott to Atlanta Hawks super shooter Kyle Korver, began adventuring outdoors together. Over time, these adventures evolved into more and more challenging pursuits. Elliott then introduced their group to the idea of "misogi" — a Japanese Sinto practice of "ritual purification by washing the entire body," often involving pilgrimages to sacred waterfalls and bodies of water as a way to practice Zen. Elliot then adopted this concept of practicing Zen while in discomfort to apply to their adventurous pursuits. It has now become an annual ritual for Elliot, Parrish, and their friends. Parrish describes these annual misogis as a "a mental and spiritual challenge wrapped in a physical package." 
In 2014, Outside magazine wrote a piece about one of their groups misogi pursuits: an aquatic relay involving carrying a 68 lb stone 5K across the ocean floor. Their team of five found a huge rock the size of a microwave, boated out to a shallow part of the ocean floor, and took turns carrying it across the ocean floor until they had traveled 5 kilometers together. 
These annual misogis have led Parrish through a variety of challenging pursuits, at times almost comically rigorous, and at other times, unexpectedly perilous, from bike rides that lasted 19 hours instead of the expected 6 hours to open-ocean excursions. On one particular misogi, Parrish and his crew decided to try paddleboarding from the Channel Islands to Santa Barbara. Armed with only their paddleboards, paddles and their own body strength and willpower, they paddled the through 25 miles of open ocean, despite unexpectedly tall waves and forceful winds defiantly trying to blow them towards Malibu. "After 20 minutes," Parrish told Outside magazine, "my shoulder started locking up. For the first six hours, I didn't think we'd make it." The danger of their misogi expeditions had never felt so viscerally real. As in all their pursuits, however, their sheer willpower and mental and spiritual fortitude prevailed, and they made it to the other side bruised and battle worn, but safe and successful.
As strenuous and ludicrous as these misogis may sound, pursuits like these seem to have their advantages for those that perform them. "It's this idea of really digging down deep and doing something you're completely uncomfortable with that really gets you down to where your edges are and where your limits are and pushing a little bit further," Parrish explains.
Parish feels these spiritually, mentally, and physically challenging pursuits — even if executed just once a year — act as aces in his pocket, accomplishments he can pull out and remind himself of throughout the year, of how he was able to withstand something so strenuous and find peace and comfort in the uncomfortable. Making a practice of pushing himself further than he ever thought possible has translated to his art practice. The bio-resin material he works with "is a very fussy material, it's completely unpredictable, it's sticky, it can break at any time, it takes a ton of patience. Like doing a misogi," he says.
---
OPEN OCEAN SWIMMING
Another annual misogi had Parrish and his team of adventurers swimming 19 miles in the open ocean from Santa Cruz island to Oxnard, across the Santa Barbara Channel. Of the experience, Parrish says in Michael Easter's book, Comfort Crisis, 'As an artist, I thought I knew blue. But that Misogi fully immersed me in so many shades, gradients, vibrancies and transitions of blue. The water and the sky. I now know blue. The experience drastically impacted my art, and I'll never forget those blues.'' 
Like all of their misogis, this swim was an isolated event, a one-day practice in masochism, or spiritual enlightenment, depending on your perspective. However, when the 2019 COVID pandemic sent our world into quarantine, Parrish found that he needed an outlet to continue his physical pursuits, unaffected by the quarantine closures. "Trails were closed, beaches were closed, gyms were closed, and I needed to get outside," Parrish remembers. So, reflecting back to the thrill of the challenge of his recent misogi, he turned to the greatest open, unadulterated wilderness resource at his disposal: the Pacific Ocean. "I'm always interested in this idea of wilderness," Parrish says, "so ocean swimming became this new wilderness that I didn't really know anything about." So Parrish began swimming miles in the open ocean, and — just to see if he could do it — challenged himself to swim it all without a wetsuit, despite average water temperatures never rising above 60 degrees Fahrenheit.
What started as a simple exercise and pursuit of outdoor space, slowly evolved over time. Somewhere along the way, Parrish had realized that he was on pace to swim 100 miles in the year. So he pursued, slowly and steadily until he had accomplished this incredible feat. "It felt like swimming really paralleled well with the pandemic," he says, "You're immersed in this environment where you don't really know what's going on, you're in an extremely uncomfortable situation, and there is a real sense of danger, and yet, you have to keep moving and somehow figure out how to be comfortable, how to keep your mind calm and lower your anxiety. So it's about finding comfort in the chaos, about finding beauty in the raw moments."
Parrish also finds the parallels between this mindset and his own art practice, especially his bio-resin and wood flitches. "Finding comfort in the chaos… If you look at my work, that's exactly what it is. Yes, the work is highly polished, but there are facets in the light and there are flaws in the wood, and the works are ascended in space, so there's always this element of tension and balance." In this way, Parrish finds that learning to keep calm, stay patient, and find peace in the wilderness helps him to do the same in his studio. It turns out that we have these extreme pursuits, and the lessons they impart, to thank for much of Parrish's beautifully powerful work.
---
FATHERHOOD
From open ocean swims to stone-carrying sea floor treks, from surfing in a land far from home to racing down ski slopes, Parrish has explored, adventured, and persevered through great, unknown wildernesses all his life. However, in the last few years, he's been learning how to navigate perhaps his greatest new wilderness yet: fatherhood. A year ago this February, Parrish and his wife had their second child, a daughter named Juno Rose. Between caring for their new daughter, raising their first daughter, Charlie Jane, buying a home for the first time, and maintaining a successful studio art practice in the middle of a pandemic, Parrish has certainly had his hands full this past year. "We're navigating everything in completely uncharted territory," Parrish says, "and it's storming… but like any good sea captain, we have experience being completely uncomfortable. We're going to make sure that we don't sink. We're holding fast, steady as we go, in the face of danger. You keep marching."
It's from this feeling, this internal, and now family, mantra, that Parrish devised the title of his upcoming show opening on January 28th, "Steady As We Go," with Utah artist Havoc Hendricks. It's a message meant for his collectors as much as it is for himself, a reminder to persevere and keep marching ahead despite the challenges of this unknown territory. "I think that, honestly, right now, particularly in the pandemic, everybody's struggling… People are emotionally exhausted, and it's unsteady. That's what it means to be in the wilderness. But if you have a waypoint, if you have a cairn, a lighthouse, it allows you to focus and get clarity on the goals we're all trying to achieve. These pieces that I'm making, that's what this work is about. There are a lot of people right now who need steady, who need solid ground… so I think the undertext is about faith: we're going to keep moving forward with the belief that it's going to be okay."
As we all navigate our own wildernesses, we hope that Parrish's work can be something of a waypoint, a reminder of those beautiful moments when we feel most alive, those moments that keep us pushing through the discomfort. Like Parrish, perhaps we can even find comfort in the chaos, or at the very least, remember to keep marching ahead, one foot in front of the other, steady as we go.
---
Written by Veronica Vale